In annual report, UN Secretary General condemns unprecedented reprisals against human rights defenders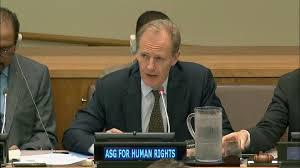 21 Sep 2017
On September 20, 2017, Andrew Gilmour, the United Nations Assistant Secretary-General for Human Rights, presented to the Human Rights Council the annual report of the UN Secretary-General (UNSG) on the subject of reprisals against persons who cooperated with the UN.
The 2017 report names 29 countries where individuals have been subjected to reprisals – including asset freezes, travel bans, arbitrary arrests, enforced disappearances and torture – for having cooperated with the UN human rights mechanisms.
"We should see these individuals as the canary in the coalmine, bravely singing until they are silenced by this toxic backlash against people, rights and dignity – as a dark warning to us all," said Gilmour, who was appointed in 2016 to address the issue of reprisals.
The Middle East and North Africa region accounts for a third of the total countries named. Algeria, Bahrain, Egypt, Israel, Mauritania, Morocco, Oman, Saudi Arabia, Sudan and the United Arab Emirates were all included in the report.
In June 2017, Alkarama had submitted a report to the Secretary-General detailing reprisals taken by Arab States against human rights defenders in six of these countries.
Algeria
In February 2017, Rafik Belamrania was arrested and interrogated over a complaint he submitted to the Human Rights Committee on the case of his father, Mohammed Belamrania, who was abducted and executed by the Algerian army in 1995. As a result, he was charged with "incitement to terrorism", which, under Algerian law, includes any attack against "the symbols of the Nation and the Republic". In November 2017, Rafik was sentenced to five years in prison.
Bahrain
The UNSG addressed several cases of reprisals in Bahrain, which took the form of travel bans, arrests, detentions, ill-treatment and, in one case, sexual assault and torture. The report referred to actions taken by the Special Procedures, which expressed concerns about an "orchestrated crackdown on civil society", stressing that "the authorities have resorted to drastic measures to curb dissenting opinions".
Egypt
The reprisals report includes the case of Ahmed Amasha, who was abducted, secretly detained for 20 days, electrocuted, and raped by state security officers in order to force him to confess to being a member of a "banned group". He was charged under the Anti-Terrorism Law for having communicated cases of enforced disappearances and arbitrary detention to the UN mechanisms.
Additionally, during his speech before the HRC, Andrew Gilmour highlighted the case of lawyer Ebrahim Metwally, who was arrested at Cairo International Airport on September 10, 2017 while on his way to Geneva, where he was set to meet with the UN Working Group on Enforced or Involuntary Disappearances. Metwally was charged with "spreading lies" and "conspiracy with foreign entities, including the Working Group on Enforced or Involuntary Disappearances."
Israel
Human rights defenders working on Palestine have faced an "increasingly virulent environment" according to the report. Among the cases included in the report is that of the Director-General of B'Tselem, who was threatened by a member of parliament with having his Israeli citizenship revoked after comments made before the Security Council on the expansion of settlements and the deteriorating human rights situation for Palestinians.
In a similar case, a human rights lawyer working for Al Haq was subjected to death threats and accusations because of her engagement with the International Criminal Court in The Hague.
Mauritania
Between June and July 2016, 13 activists from the Initiative for the Resurgence of the Abolitionist Movement (IRA) were arrested and charged with "armed gathering", "violence against law enforcement officials", "rebellion", and being "members of a non-registered organisation". In August, they were sentenced to heavy prison terms ranging from 3 to 15 years following an unfair trial, during which confessions extracted under torture were admitted as evidence.
The UNSG believes that the prosecution of the IRA activists constitutes a measure of reprisals for their cooperation with the Special Rapporteur on extreme poverty and human rights during his visit to the country in May 2016.
Morocco
Since October 2014, Syrian asylum seeker Abdul Rahman Alhaj Ali has been detained in Morocco upon an extradition request by Saudi Arabia for "breach of trust". In August 2016, the UN Committee against Torture (CAT) issued a decision on his case, calling upon the Moroccan authorities to release him immediately.
However, the authorities have refused to implement this decision in retaliation for his engagement with the CAT. In March 2017, while he was on hunger strike, he received a visit from high-ranking officials who told him that he "would never be released" and that he would "spend his life in prison". He was then pressured to sign a document accepting his extradition to Saudi Arabia.
Oman
On August 26, 2016, prominent Omani human rights defender Said Jadad was released after having served his one-year prison sentence. He was prosecuted for "using information technology to prejudice public order" because of a publication on social media that was critical of governmental policies. His arrest and prosecution also constituted a form of reprisals for his meeting with the Special Rapporteur on freedom of peaceful assembly and association during his visit to the country in September 2014.
Saudi Arabia
Essa Al Hamid is a prominent Saudi human rights defender and member of the Saudi Civil and Political Rights Association, which was banned by the authorities in 2013. He was charged with, inter alia, "participating in an illegal organisation" and "communicating with international organisations in order to harm the image of the State". This final charge directly refers to ACPRA's activities communicating cases of human rights violations to the UN human rights mechanisms.
On December 1, 2016, the Specialised Criminal Court increased his sentence to 11 years in prison, a fine of 100.000 Riyals, and an 11-year travel ban in retaliation for his peaceful human rights activism.
Sudan
In Sudan, several human rights defenders were subjected to reprisals for their cooperation with the UN human rights mechanisms, while in May 2016, human rights defenders were prevented from attending their country's Universal Periodic Review in Geneva.
Furthermore, a group of human rights defenders from the Khartoum Centre for Training and Human Development were subjected to judicial harassment in retaliation for their engagement with the Human Rights Council (HRC).
United Arab Emirates
Ahmed Mansoor was subjected to further reprisals for his work and advocacy with international human rights organisations and the UN human rights mechanisms. On March 20, 2017, state security officers raided his home and confiscated his computer and cell phones, as well as those of his family, without providing any warrant.
He was accused of using social media to "publish false and misleading information that harm national unity and social harmony and damage the country's reputation" under the Cybercrime Law. Today, he remains detained in solitary confinement in an unknown location, and has been denied access to a lawyer. Despite the authorities affirming that is being detained at Abu Dhabi Central Prison, his family was only able to visit him twice in an unofficial facility close to the Al Wathba Prison.
For more information or an interview, please contact media@alkarama.org (Dir: +41 22 734 1008).