Alkarama launches its 2016 Annual Report.
Our website is being upgraded to a new design to offer our visitors a better browsing experience and richer content. New content will be added as usual, however some functionalities may not be available until the migration process is completed.
Syria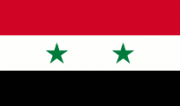 Systematic and widespread practice of the crime of enforced disappearance;
Practice of torture and arbitrary detention of human rights defenders and political activists under the pretext of 'the fight against terrorism';
Devastating effects of the conflict, in particular on the civilian population;
Impunity of perpetrators of war crimes and crimes against humanity
International Covenant on Civil and Political Rights (ICCPR)
Individual Complaint procedure with the Human Rights committee (ICCPR Optional protocol 1) Ratified ?
✖
Second Optional Protocol of ICCPR (abolition of death penalty) ratified ?
✖
Date last Concluding Observations by Human Rights Committee
Next Human Rights Committee State Report due
OVERDUE - State party did not submit report on time
Convention against Torture and Other Cruel, Inhuman or Degrading Treatment (UNCAT)
OPCAT (National Preventive Mechanism) Ratified ?
✖
National Preventive Mechanism (OPCAT) created ?
✖
UNCAT Art 20 (confidential inquiries) ratified ?
✖
UNCAT Art 22 (Individual Complaint procedure) Ratified ?
✖
Date of last Concluding Observations by Committee against Torture (CAT)
Next CAT State Report Due
OVERDUE - State party did not submit report on time
International Convention for the Protection of All Persons from Enforced Disappearance (ICPPED)
Date last Universal Period Review (UPR)