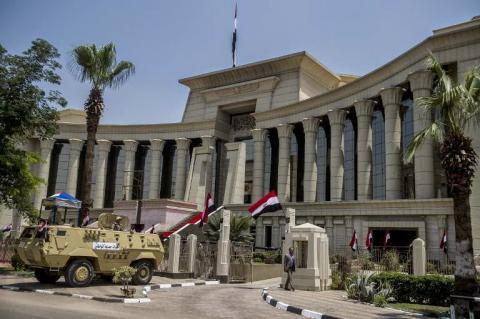 Geneva (January 26, 2018) -- Today, several United Nations human rights experts expressed concern over "persistent serious allegations" of unfair trials in Egypt, while calling on the authorities to halt all pending executions.
"We are particularly concerned by an apparently continuing pattern of death sentences handed out on the basis of evidence obtained through torture or ill treatment, often during a period of enforced disappearance," the experts said in a joint statement. 
On January 2, 2018, Alkarama brought one such case to the urgent attention of Agnes Callamard, Special Rapporteur on extrajudicial, summary or arbitrary executions, one of the five UN experts who issued today's statement. Alkarama submitted evidence to the Special Rapporteur that four men tried in the "Kafr El Sheikh case" had been sentenced to death, and subsequently executed, as a result of an unfair trial, during which confessions extracted under torture were submitted as evidence.
Alkarama also urged the UN experts to ensure that the death sentenced issued against six students by the Court of Cassation in the "Mansoura Guard Killing Case", after a seriously flawed trial on June 7, 2017 are not carried out. Alkarama therefore requested that the Special Rapporteur urgently intervene with the Egyptian authorities to halt all imminent executions, establish an immediate moratorium on the use of the death penalty, and carry out an urgent and comprehensive review of the criminal justice system.
Previously, on January 5, the Office of the UN High Commissioner for Human Rights (OHCHR) expressed "deep shock" that a total of 20 people had been executed in Egypt since the previous week. At a news briefing in Geneva, OHCHR spokesperson Liz Throssell stated that "civilians should only be tried in military or special courts in exceptional cases," and added that "executions should not be used as a means to combat terrorism."
Background on Kafr Al Sheikh case
On April 15, 2015, a bomb exploded in a room adjacent to Kafr Al Sheikh Sports Stadium, killing three military college students and injuring two others. Immediately following the attack, nine individuals were violently abducted by the State Security Police and held in secret for long periods of time ranging from 70 to 90 days in different places of detention.
While denied any contact with the outside world, the men were brutally interrogated and subjected to lengthy sessions of torture to confess to the bombing. One of the youngest victims reported having been told that if he refused to incriminate himself, he would be executed.
The men were then charged with "organising and carrying out the explosion", "murder" and "belonging to a banned group". On February 1, 2017, following a heavily flawed trial, the Alexandria Military Court sentenced them collectively to death on the sole basis of these forced confessions and statements of State Security officers, which defence lawyers were not allowed to challenge.
On June 19, 2017, the High Military Court upheld their sentences on appeal. Following this decision, Alkarama submitted an urgent appeal to Agnes Callamard, requesting that the independent UN expert urge the Egyptian authorities to revoke these death sentences and investigate the victims' allegations of torture.
Arbitrary and secret execution of the four men
On January 1, 2018, the families of the victims were informally told that an order of execution was handed to the Burj Al Arab Prison authorities to carry out the death sentences the next day. However, the families were not officially informed of the date of the executions, in violation of Egyptian Criminal Law. In the morning of January 2, 2018, the four men were executed at the Burj Al Arab Prison of Alexandria.
Following the UN experts' statement, Khadidja Nemar, Regional Legal Officer for the Maghreb and Nile regions at the Alkarama Foundation, stated: "The particularly cruel nature of the Kafr Al Sheilh executions set a dangerous precedent in Egypt. Many other individuals sentenced to death in counter-terrorism cases following grossly unfair trials are at risk of being executed, and it is all the more worrisome that these executions may be carried out in secret. Now more than ever these individuals need protection and international attention to prevent the repetition of the violations that occurred."
For more information or an interview, please contact media@alkarama.org (Dir: +41 22 734 1008).