UAE: UN expert calls on Emirati authorities to release three human rights defenders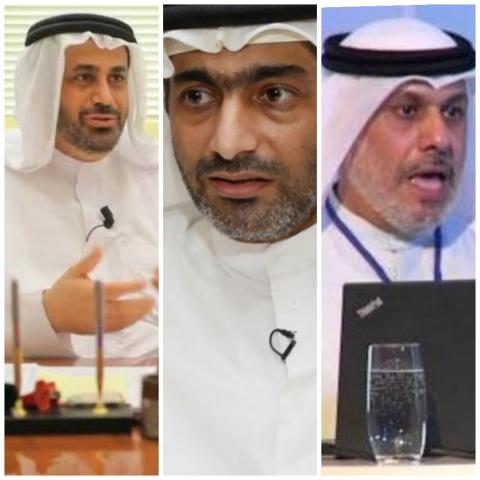 22 Feb 2021
An independent UN expert expressed her concerns about ill-treatment of three human rights defenders in the United Arab Emirates, which may amount to torture, and urged the authorities to release them.
Mary Lawlor, the United Nations special Rapporteur on the situation of human rights defenders, said, "Muhammad Al-Roken, Ahmed Mansoor, and Nasser Bin Ghaith were not only criminalized and imprisoned due to their legitimate and non-violent calls for the respect of human rights in the United Arab Emirates, but they were also subjected to ill-treatment in prison".
It referred to reports it had received that the conditions and treatment to which they were subjected, such as prolonged solitary confinement, violate human rights standards and may amount to torture.
Alkarama had worked in the context of its preoccupations for years on the case of these three men, and other prisoners of conscience, activists and political opponents who suffer from repression in the UAE, and Alkarama submitted on behalf of the victims individual complaints to the special procedures. Alkarama recalled their case to the Human Rights Council in the context of the Universal Periodic Review (UPR) of the UAE's human rights record and issued numerous press releases through its media outlets and networks.
Muhammad Al-Roken
In this context, the United Nations Special Rapporteur on the situation of human rights defenders said that Muhammad al-Roken, who has been imprisoned since 2012 on charges of plotting against the government, is being subjected to intermittent solitary confinement, without any justification or explanation as he claims. It indicated in its report that the Working Group on Arbitrary Detention found that Muhammad al-Roken's detention was arbitrary and requested his immediate release.
In November 2019, Alkarama and other international human rights organisations and activists from several countries called on the UAE and its leaders to immediately and unconditionally release prominent human rights defender and lawyer Dr. Muhammad Al-Roken, who is currently serving as a prisoner of conscience in the UAE. Dr. Muhammad Al-Roken, who was arbitrarily detained nearly nine years ago simply for peacefully exercising his right to freedom of expression and freedom of education and association through his work as a lawyer and human rights defender.
Ahmed Mansoor
The statement stated that prominent human rights activist Ahmed Mansoor, detained since 2017, is being held in solitary confinement. The statement added that Mansoor was convicted of insulting "the status and status of the UAE and its symbols", including its leaders, in addition to "seeking to corrupt the relationship between the UAE and its neighbors by publishing false information reports on social media."
The independent expert said that the human rights defender is serving a 10-year prison sentence in Al-Sadr Detention Center, as he was repeatedly held in solitary confinement in a four-square-meter cell without bedding, with limits or deprived of sunlight, showering and drinking water.
Mr. Ahmed Mansoor's health has deteriorated significantly after he went on hunger strike twice in 2019 to protest his treatment and prison conditions. His second hunger strike lasted 45 days. The Rapporteur referred to reports being denied necessary health care.
In June 2018, UN human rights experts urged the authorities in the United Arab Emirates to immediately release Ahmed Mansoor, an award-winning human rights defender in this field, and to cancel his 10-year prison sentence.
In their report the experts said: "We condemn, in the strongest possible terms, the sentence against Mr. Mansoor, and we call on the Emirati authorities to drop the charges against him and to release him immediately."
Mr. Mansoor, the 2015 winner of the Martin Ennals Award, was convicted of defaming the UAE on social media and inciting sectarian hatred, which threatens social harmony and national unity in the country.
The accusations came as a result of a number of tweets in which he called for the release of human rights defenders Osama al-Najjar and Nasser bin Ghaith, in addition to highlighting the human rights violations committed in Yemen and Egypt.
The UN experts emphasized the following: "The verdict against Ahmed Mansoor constitutes an unacceptable attack on freedom of expression and freedom of association, and on human rights defenders in the United Arab Emirates as a whole." In the first place, Mr. Mansoor should be detained for exercising rights and freedoms enjoyed by everyone, including human rights defenders.
Mr. Mansoor has been subjected to physical assault, death threats, government surveillance, and travel ban since 2011, with the aim of preventing him from participating personally in the UN mechanisms.
His trial ended on May 29, 2018, when the Abu Dhabi Court of Appeal sentenced him to prison and paid a fine of one million dirhams (the equivalent of approximately $ 272,000). He was arrested on 20 March 2017 and his whereabouts remained unknown for nearly a year until the first session of his trial took place on 14 March 2018. He was also left in solitary confinement for long periods, and his whereabouts were not revealed even during his trial. It is reported that Mr. Mansoor has been prevented from appointing a lawyer of his choice.
The experts stressed, "The accusations directed against Ahmed Mansoor highlight the blatant and blatant use of security legislation to target human rights defenders in the United Arab Emirates. Given his cooperation with the Human Rights Council, its special procedures, and the universal periodic review mechanisms, we fear that the verdict will form. He must act in retaliation as a result of his participation in the United Nations human rights mechanisms. "
Alkarama has consistently followed the case of activist Ahmed Mansoor, and has submitted complaints about him to the United Nations special procedures, in particular to the United Nations Working Group on Arbitrary Detention which  declared, in February 2012, that the arrest of Ahmed Mansoor was arbitrary. It also called on the UAE authorities to compensate him for the harm he suffered.
Feeling concerned about the arbitrary arrest of Mr. Mansoor and fearing for his safety, Alkarama notified the Special Rapporteur on torture on 12 April 2012 and requested his intervention with the authorities of the United Arab Emirates.
Ahmed Mansoor and others were brought to an unfair trial before the State Security Court, on charges of "publicly insulting" the rulers of the United Arab Emirates, noting that the trial took place behind closed doors, in violation of international fair trial standards.
On 22 March 2017, Alkarama further sought the intervention of the UN Special Rapporteure on the situation of human rights defenders, regarding the case of Ahmed Mansoor.
On October 4, 2018, the European Parliament adopted a resolution  calling for the immediate release of Ahmed Mansoor, who was sentenced in March 2018 to a 10-year prison sentence on charges directly related to his right to freedom of opinion and expression.
At the time of his arrest, Ahmed Mansoor was the last human rights defender active in the United Arab Emirates. As a result of his work, he was subjected to harassment by the authorities for years, including physical attacks, death threats, surveillance, and confiscation of his passport. He also spent eight months in prison after his arrest in 2011 for "publicly insulting the head of state."
The European Parliament's report expressed concern, noting that recent years have witnessed the escalation of "attacks against members of civil society in the UAE, with the aim of silencing, detaining and harassing human rights activists, journalists, lawyers and others." The European Union's decision called for Mansoor's release and the cancellation of the sentence issued against him, considering it "an unacceptable violation of freedom of expression and freedom of association, and a violation against human rights defenders in the United Arab Emirates as a whole". At the United Nations in June 2018.
Nasser bin Ghaith
Concerning Nasser bin Ghaith, whose case was also handled by Alkarama, UN expert Mary Lawlor said that bin Ghaith, who was arrested in 2015 on charges related to social media posts criticizing human rights violations and political leaders, was subjected to ill-treatment in Al-Sadr prison and then Al-Razin prison. He was transferred to Al-Razin prison in 2017 in response to his 40-day hunger strike to protest his treatment and prison conditions.
In February 2018, the United Nations Working Group on Arbitrary Detention issued an opinion in which it considered the detention of Emirati activist Nasser bin Ghaith to be arbitrary, and urged the UAE government to release him immediately.
Bin Ghaith went on hunger strike again in 2018 for a period of 80 days, in protest against the denial of medication and the physical assault on him by prison authorities and his periods of solitary confinement.
The UN Special Rapporteur stated that imposing 10-year prison sentences on activists for their human rights work is not only an attempt to silence them and hinder their efforts, but also an attempt to intimidate and deter others from engaging in this legitimate work at an important time for the UAE, when fundamental freedoms and civic space are being increasingly curtailed.
The UN expert called on the UAE authorities to ensure the release of those human rights defenders, and allow them to continue their important and necessary work.