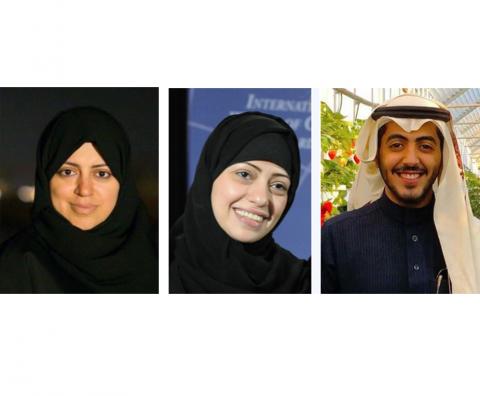 (L-R) Nassima Al Sadah, Samar Badawi and Yasser Al Ayyaf
(Geneva, August 9, 2018) – On August 6, 2018, Alkarama submitted the cases of four Saudi human rights defenders and campaigners to the United Nations Working Group on Enforced or Involuntary Disappearances (WGEID).
Samar Badawi, Nassima Al Sadah, Amal Al Harbi and Yasser Al Ayyaf were all forcibly disappeared by the Saudi secret police – also known as the Mabahith – over the course of July 29 and 30, 2018. Their disappearances have taken place within the context of an unprecedented crackdown on peaceful dissidents, which has seen the arbitrary detention and disappearance of at least 15 well-known activists, mostly women, since May 15 alone.
Crackdown on human rights defenders
The prosecution of human rights defenders by the Saudi authorities has persisted unabated in recent months, despite the fact that many have ceased to carry out public advocacy due to fear of reprisals.
The latest wave of arbitrary arrests and disappearances of human rights defenders in Saudi Arabia has been met with sustained international criticism. For instance, on May 30, 2018, the European Parliament adopted a resolution in which it called for the EU delegation to the United Nations to table a resolution on human rights defenders in Saudi Arabia, as well as to raise the issue of the state's membership in the Human Rights Council (HRC) given its "questionable human rights record".
Additionally, on August 3, the Canadian authorities called for the immediate release of peaceful human rights and civil activists, including Badawi. In response, the Saudi government severed all diplomatic ties with the state, expelling the Canadian ambassador to Saudi Arabia, freezing all trade, and withdrawing Saudi students from Canadian universities.
Samar Badawi
On July 30, 2018, at around 1 a.m., members of the Mabahith arrived at Badawi's house in Jeddah. After searching the house and confiscating electronic devices, they forced her to contact her mother-in-law to ask her to pick up her infant daughter. The security forces then proceeded to arrest Badawi and take her to an unknown location.
Badawi is a prominent human rights defender, who has campaigned tirelessly for civil and political rights, including the lifting of the driving ban and the end of the male guardianship system in Saudi Arabia. More recently, she has also been active in campaigning for the release of her brother Raif Badawi, who is currently serving a 10-year prison sentence for charges directly related the exercise of his right to freedom of expression. In addition, her former husband – the lawyer Waleed Abu Al Khair – is serving a 15-year prison term for defending members of the now banned Saudi Civil and Political Rights Association (ACPRA).
In December 2014, the Saudi government imposed a travel ban on Badawi and have subsequently subjected her to constant harassment. This has included a period of detention in January 2016 as a result of her peaceful human rights activities. 
Nassima Al Sadah
On July 30, 2018, members of the Mabahith stormed Al Sadah's home in Safwa City in the Eastern Province of Saudi Arabia. They then proceeded to abduct her and take her to an unknown location.
Like Badawi, Al Sadah has campaigned for civil and political rights, including by openly calling for the lifting of the driving ban and an end to the male guardianship system. She has also been a regular participant in protests in the Eastern Province of Saudi Arabia, calling for an end to discrimination against the Shi'a minority. In addition, Al Sadah attempted to run for local election in the area in 2015, but the Saudi authorities took her name off the ballot, effectively barring her from participating.
Amal Al Harbi
On July 30, 2018, members of the Mabahith dressed in civilian clothes and driving civilian vehicles abducted Al Harbi at Jeddah Corniche, where she was on holiday with her children. The Mabahith then forced Al Harbi into one of their vehicles and took her to an unknown location.
While not a self-proclaimed human rights defender, Al Harbi has been vocal in campaigning for the release of her husband Fowzan Al Harbi, who is currently serving a seven-year prison sentence for his work defending human rights as part of ACPRA.
Yasser Al Ayyaf
At around 6 p.m. on July 29, 2018, Al Ayyaf was stopped in the street in Al Qassim Province, northwest of Riyadh, by members of the Mabahith in a military vehicle, who forced him into their car. They then tied his hands up and drove to his house. After searching Al Ayyaf's house, they took him to an unknown location.
Al Ayyaf was previously arrested in 2013 on account of his peaceful human rights activism on behalf of victims of arbitrary detention in Saudi Arabia, including his father Abdullah Al Ayyaf, as well as his participation in peaceful sit-ins in support of protestors in the Eastern Province. While in detention, Yasser Al Ayyaf was subjected to torture and cruel, inhuman and degrading treatment.
Alarmed by recent developments, on August 6, Alkarama requested the urgent intervention of the WGEID to urge the Saudi authorities to release all four individuals or, at the very least, to bring them under the protection of the law and inform their families of their fates and whereabouts.
For more information or an interview, please contact media@alkarama.org (Dir: +41 22 734 1006).