Syria: Enforced Disappearance of Abdul Majid Al Satam by IS since 1 August 2013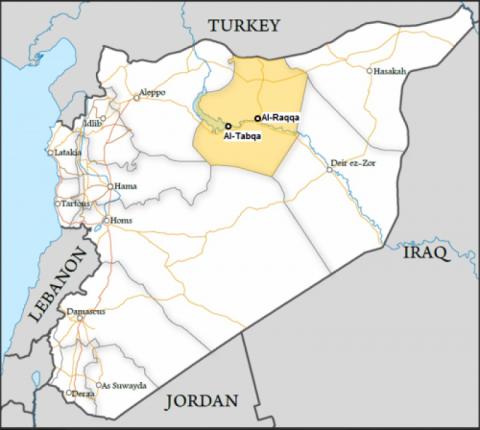 29 Oct 2015
On 14 October 2015, Alkarama and Human Rights Guardians sent a communication to the United Nations Commission of Inquiry on Syria on the enforced disappearance of Abdul Majid Al Satam, a 29-year-old member of the group Trustees of Raqqa – an armed group fighting both the Assad armed forces and the Islamic State (IS) − who disappeared after his abduction by IS in August 2013.
On 1 August 2013, Al Satam was arrested by IS members dressed in black uniforms and with black masks at a checkpoint they controlled, on the road to Al-Thawrah – a city also known as Al Tabqah and located in the Al Raqqa Governorate, approximately 55 kms west of Raqqa – at a crossroad called Al Saqura.
Al Satam's family believes that his arrest is due to his militancy, first as the head of the political bureau of the Free Syrian Army's 11th brigade and then as a prominent figure of the Trustees of Raqqa. At the time of his arrest, IS was fighting against opposition groups like the Free Syrian Army, Jabhat Al-Nusra, Ahrar Al-Sham and affiliated local armed groups, among which the Trustees of Raqqa, to consolidate its rule in Raqqa by the end of that year. IS attacks against armed groups and civilians and abductions of members of armed groups as well as peaceful demonstrators were common.
Worried over his fate, Al Satam's relatives contacted some mediators in order to locate him, but were never informed of his fate and whereabouts, and he remains missing since.
"Both international human rights law and humanitarian law, which also apply to non-State actors such as IS, prohibit acts of enforced disappearances," explains Inès Osman, Alkarama's Legal Officer for the Mashreq. "The most fundamental principle of humanitarian law is that all persons who are 'hors de combat' are entitled to the same protection. Therefore, each party to a conflict must report all captured members of armed groups and provide their family members with information about their fate."
Alkarama and Human Rights Guardians therefore referred Al Satam's case to the UN Commission of Inquiry on Syria, demanding for a transparent, independent and prompt investigation into his disappearance. Established by a resolution of the UN Human Rights Council on 22 August 2011, the Commission of Inquiry on Syria was mandated to "investigate all alleged violations of international human rights law since March 2011 in the Syrian Arab Republic" and ensure that "perpetrators of violations, including those that may constitute a crime against humanity, are held accountable."
For more information or an interview, please contact the media team at media@alkarama.org (Dir: +41 22 734 1008)