Alkarama launches its 2016 Annual Report.
Our website is being upgraded to a new design to offer our visitors a better browsing experience and richer content. New content will be added as usual, however some functionalities may not be available until the migration process is completed.
Iraq: MP Ahmad Al Alwani Sentenced to Death After Flawed Trial
16 Jan 2015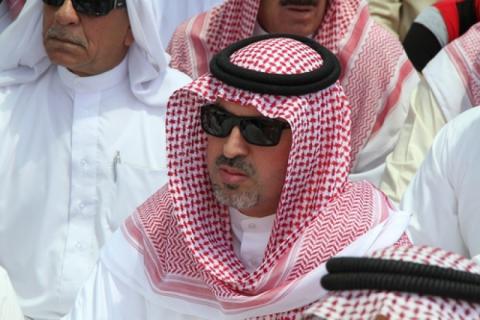 On 12 January 2015, Alkarama sent a communication to the Working Group on Arbitrary Detention (WGAD) to call upon the Iraqi authorities to put an end to the arbitrary detention of Ahmad Al Alwani, a member of the Iraqi Council of Representatives, by releasing him immediately. Al Alwani was arrested on 28 December 2013, severely tortured and forced to make false confessions, on the basis of which he was sentenced to death by the Central Criminal Court of Iraq (CCCI) in a flawed trial on 23 November 2014. Today, he is still detained in extremely poor and inhumane conditions, pending his request for appeal.
A critical voice of the Government's policies and persecution of Iraqi Sunnis, the arbitrary detention of Al Alwani is an iconic example of how the Iraqi judiciary keeps handing down politically motivated sentences. "Al Alwani has been condemned for his sole political stand, making him another victim of the Iraqi seriously flawed judicial system, which has also totally disregarded the rules providing for parliamentary immunity, meant to protect Members of Parliament from political pressure and threats," states Inès Osman, Alkarama's Regional Legal Officer for Mashreq.
Background
Ahmad Al Alwani is a prominent member of the secular Al Iraqiya political block within the Iraqi Council of Representatives. He is well known for his denunciation of corruption within the Iraqi bureaucracy, as well as his criticism of both the Iraqi Prime Minister's policies and the central government's marginalisation of Iraqi Sunnis.
On 27 December 2013, Al Alwani held numerous meetings with the provincial authorities of Ramadi – the theatre of a one-year long protest of Sunnis against discrimination by the authorities – in order to ease the tensions between demonstrators and the government. However, he was arrested the following day as a consequence of his peaceful engagement.
On 29 December, the Iraqi Minister of Defence, failing to reach an agreement with the opponents, issued a statement declaring that if the protests were to cease within two days, Al Alwani would be released. Nevertheless, clashes continued between demonstrators and the Iraqi army, leaving at least 10 people dead. At the end of the fights, about 40 members of the Iraq Council of Representatives from the Iraqiya political alliance threatened to resign if the army didn't withdraw and Al Alwani wasn't released.
Arrest, arbitrary detention and torture
Al Alwani was arrested at his house on 28 December 2013, during a night raid carried out by a task force of the Iraqi Security Forces in military uniforms, who did not provide any arrest warrant. During the raid, the task force opened fire on Mr Al Alwani's security guards, leaving two dead and a few others injured.
Shortly after his arrest, Al Alwani was taken to a secret place of detention. Neither his family, nor the Council of Representatives, were able to obtain information on his whereabouts or on the charges pending against him until his first hearing on 27 January 2014. His family and his lawyer have never been allowed to visit him in prison leaving Al Alwani detained incommunicado.
After having been subjected to ill-treatment and torture, he was also forced to sign official documents containing statements extracted under torture. As a consequence of this treatment, he now suffers from serious physical and psychological health conditions.
Sentenced to death after flawed trials
On 27 January 2014, Al Alwani was brought before the Central Criminal Court of Baghdad handcuffed and hooded. At this occasion, he was charged with "assault on military assets and killing and injuring security forces for terrorist ends", on the basis of the art. 4 of the 2005 Anti-terrorism Law which provides for the death penalty – "a law which has been extensively used by the Iraqi authorities to crackdown on human rights defenders and opposition voices by accusing them of 'terrorism'," recalls Inès Osman, Alkarama's Regional Legal Officer for the Mashreq.
During the trial, Al Alwani was prevented from effectively defending himself. In fact, his lawyer was never allowed to contact or visit him in prison to prepare his defence. Instead, he was only briefly allowed to talk to him for a few minutes in court. Following several episodes of intimidation, Al Alwani's lawyer was also arrested, blindfolded and questioned about his motives for defending this particular client.
Finally, on 23 November 2014, Al Alwani was sentenced to death on the basis of confessions extracted through torture. His lawyer filed an appeal, which is still pending to date. Al Alwani is furthermore expected to attend a hearing on 17 February 2015 in another case pending against him, for "incitement to sectarianism", which is punished by death as well.
In view of the foregoing, Alkarama sent a communication to the WGAD to call upon the Iraqi authorities to release him immediately, as well as to suspend the execution of pending death sentences and adopt a moratorium on capital punishment, as it systematically results from unfair trials and is based on the sole use of confessions extracted under torture as evidence. Furthermore, Alkarama asked the WGAD to request the Iraqi authorities to ensure that counsels, including those defending alleged terrorist cases, are not subjected to harassment by the security forces.
For more information or an interview, please contact the media team at media@alkarama.org (Dir: +41 22 734 1007 Ext: 810)