Yemen/UAE: A former detainee in Emirati prisons dies shortly after his release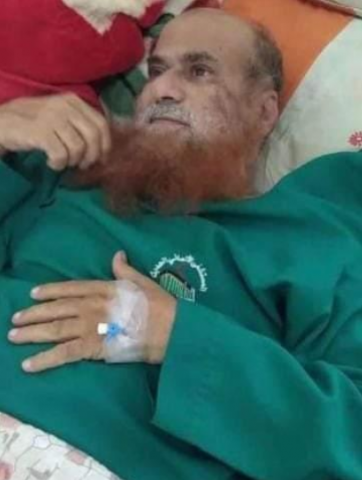 11 Oct 2021
Former Yemeni prisoner Abdul Qadir Al Shaibani (Al Budhaiji) died a few weeks after his release in a very poor state of health, as a result of enforced disappearance, detention conditions and torture.
Alkarama launched an urgent appeal concerning Al-Shaibani to the United Nations Working Group on Enforced and Involuntary Disappearances.
A relative of Al-Shaibani told Alkarama that "the 66-year-old preacher Al-Shaibani was released from UAE prisons with a tired body, almost complete disability and multiple and emerging illnesses, due to the conditions of detention, torture and deprivation of medication", adding that he "has been clinically dead since he was tortured by militias of the Transitional Council of Aden and Tariq Saleh on the west coast and in the UAE".
Family romance
According to the version of a family member, "Al-Shaibani was kidnapped in Aden by the anti-terrorist elements of the UAE-backed Transitional Council on his way to Cairo for treatment, where he was forcibly hidden in solitary confinement in Goldmore in the Tawahi district and was tortured and deprived of health care. After that he was transferred to one of the prisons belonging to the forces of Tariq Saleh and his brother Ammar Saleh, which is under the supervision of the Emirates on the west coast, at which point his health condition worsened further. He was then transferred to the Emirates, without his family's knowledge, in order to keep him alive for further questioning by Emirati officers, and later visas were sent to his wife and eldest son who travelled to the Emirates to see him, but the Emirati authorities only allowed them to see him for a few hours and in the presence of an intelligence officer.
In early August, Al-Shaibani was released more than 9 months after his abduction and enforced disappearance. He suffered from emerging illnesses as a result of torture and was denied treatment. He later died in a hospital in the capital, Sana'a.
Earlier, Alkarama revealed that Al-Shaibani was released from a UAE-operated prison in Mukalla, central Hadramot governorate, on his way from the UAE, where he had been transferred without his family's knowledge, after having moved into several of the secret detention centres run by the UAE-backed Yemeni forces, whose president is Ali Saleh.
It appears that Al-Shaibani's family was pressured to prevent him from speaking about the details of this chaotic journey, but information obtained by Alkarama indicated that Al-Shaibani was transferred to the UAE to complete the investigation, as in similar cases of Yemeni detainees being interrogated by Emirati investigators in military bases outside the country.
Alkarama's action
On 18 November 2020, Alkarama wrote to the Working Group on Enforced and Involuntary Disappearances asking it to intervene regarding Yemeni preacher Abdul Qader Al-Badhiji (Al-Shaibani), who has been missing since 30 October in the southern Yemeni city of Aden, where he was kidnapped by armed men. They are believed to belong to the security belt forces controlling the city, supported by the Emirates, and took him in front of his wife and one of his children to an unknown destination.
The various Yemeni regions have turned into an open theatre of chaos, kidnappings and assassinations, especially those in which the UAE has established parallel military formations that are not really subject to Yemeni state institutions and act on behalf of the UAE and Saudi Arabia, as described by the UN reports.
According to his family, Mr Abdul Qader Ali Abdullah Al-Badhiji Al-Shaibani, 65, accompanied by his wife and one of his children, was on his way to the interim capital of Aden, en route to Cairo, to complete his medical treatment, when he was kidnapped by masked gunmen in two cars on 30 October 2020.
He was kidnapped in the Mansoura neighbourhood after they shot in the air to terrorise his family and took him to an unknown destination.
Al-Shaibani was born in 1955. He is a leading humanitarian figure in Yemen and one of the founders of the Yemeni Wisdom Charitable Society and vice-chairman of the Shura Council of the Peace and Development Party. For the past decade, he has suffered from several chronic illnesses, including a brain and hip joint tumour, and has undergone several surgeries, which have worsened his condition following his enforced disappearance.