Yemen: Alkarama writes to United Nations about three people forcibly disappeared in Hudaydah by Houthi authorities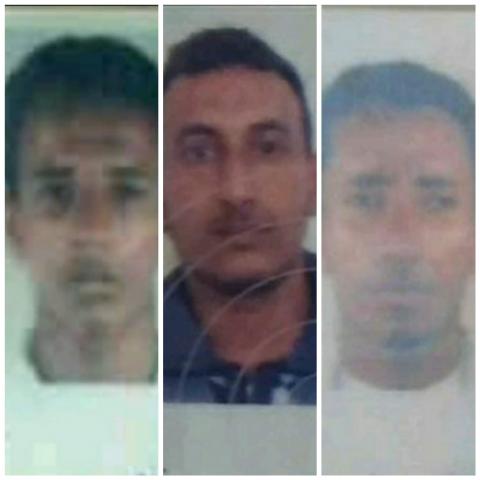 17 Sep 2021
Alkarama has written to the UN Working Group on Enforced or Involuntary Disappearances regarding three Yemenis who were arbitrarily arrested by the de facto authorities in Hudaydah, western Yemen, and taken to unknown destinations. Their families still do not know their fate to this day.
 The three people are Ghazali Ali Hassan Al Mahdabi (29 years old), Yasser Muhammad Ali Ibrahim Junaid (43 years old), Omar Muhammad Ali Qayyim Al Sharif (30 years old), all from Al Hudaydah governorate in western Yemen. They were arrested and taken to detention centres run by the Houthi group "Ansar Allah", but there has been no news of the three victims for years, and their fate remains unknown until now.
The facts
Ghazali Ali Hassan al-Mahdabi, a university student, resident in the Bajil district of Hudaydah, western Yemen, was kidnapped by Houthi gunmen on 15 October 2015 at a checkpoint in Al-Arbaeen Street in Al Hudaydah governorate, as he was returning home, and was allowed to contact his family the following day
Yasser Muhammad Ali Ibrahim Junaid worked as a school headmaster in the education sector in Al Hudaydah governorate. He was arrested at his home in Saada area of Al Hudaydah by a Houthi patrol led by "Abdul Rahman Mahmoud Ali Yousef Halisi", and was handed over to the area security supervisor, called "Abu Yassin" who took him to an unknown location since 20 February 2017. His fate remains unknown until today.
Omar Muhammad Ali Qaim al-Sharif was abducted from his home in January 2016 by Houthi forces led by a man called "Abu Raad". One of the witnesses who was abducted with him said that when they were held in Nadi prison, al-Sharif was isolated from the other detainees. The witness added that he could not see him but could hear his voice, especially during torture sessions. Houthi investigators threatened to take him to Sa'ada. He was tortured continuously for 15 days until he could no longer be heard. Since then, no one knows what happened to him.
In all three cases, the families of the victims submitted reports to the Houthi group's authorities in Al Hudaydah governorate in western Yemen and tried to trace their relatives, including to the Ministry of Interior. Reports have also been submitted to the Office of the High Commissioner for Human Rights and the International Committee of the Red Cross, but no information has been received about them.