Syria: When Peaceful Activism Leads to Enforced Disappearance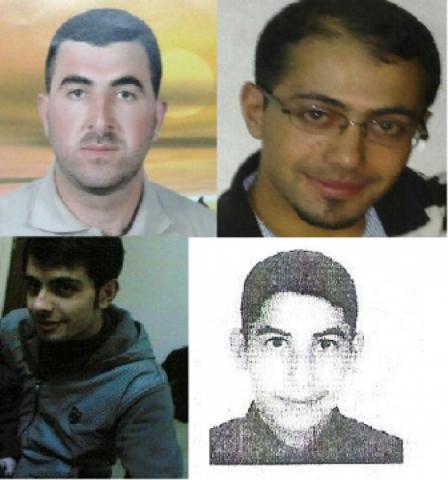 05 Nov 2014
On 31 October 2014, Alkarama sent a communication to the United Nations Working Group on Enforced and Involuntary Disappearances (WGEID) concerning the case of four persons disappeared since their arrest by the Syrian Military Intelligence on 24 November 2012. Iqbal Al Ammar, 22, and his brother, Suhaib, 24, both language students from the Damascus University, were abducted together with their uncle, Yosef Al Ammar, and friend, Bilal Koshan, 26, also a Damascus University student who was staying with them at the time.
The Al Ammar family is well known for its active and peaceful participation in the Syrian revolution. Dr Mouhammad Al Ammar, Iqbal's and Suhaib's father, is in fact a well-known opposition figure who had previously been arrested and detained, whilst his two sons were also arrested and tortured in detention between 2011-2012. Providing humanitarian support to people fleeing Damascus after the shelling in October 2012, Iqbal and Suhaib were also documenting the city's bombardment through photos and video in areas mostly populated by civilians.
On 24 November 2012, Iqbal and Suhaib were at their house with their friend and uncle when they were brutally arrested, without any arrest warrant, by a patrol of the Syrian Military Intelligence. Worried about their fate, their relatives filed several complaints to various authorities without obtaining any response. Some sources say the abducted activists were last seen in October 2013 in Branch 235, known as the "Palestine Branch" of the Military Intelligence, whilst others believe they are detained in the Al Khatib Branch of the General Intelligence in Damascus. To date, their whereabouts remain unknown.
In light of this information, Alkarama sent a communication to the Working Group on Enforced or Involuntary Disappearances (WGEID) to call upon the Syrian authorities to ensure that Iqbal, Suhaib and Yosef Al Ammar, as well as Bilal Koshan be released immediately or, at the very least, to inform their family about their fate and allow them to be in contact without any restrictions. The Syrian authorities must put an end to the systematic practice of enforced disappearance and put in place all necessary measures to ensure its abolition.
For more information or an interview, please contact the media team at media@alkarama.org (Dir: +41 22 734 1007 Ext: 810)