Alkarama launches its 2016 Annual Report.
Our website is being upgraded to a new design to offer our visitors a better browsing experience and richer content. New content will be added as usual, however some functionalities may not be available until the migration process is completed.
Saudi Arabia: When Tweeting for Peace and Tolerance Becomes a Punishable Crime
05 Dec 2014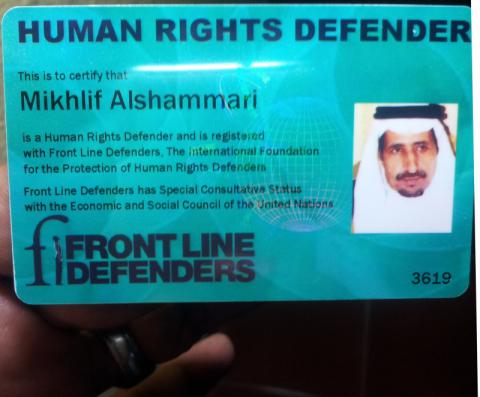 On 24 November 2014, Alkarama sent an urgent appeal to the United Nations Special Rapporteur on the promotion and protection of the right to freedom of opinion and expression, Mr David Kaye, and to Special Rapporteur on the situation of human rights defenders, Mr Michel Forst, on the case of Mr Mikhlif Al Shammari, a prominent Saudi human rights defender who has been sentenced to two years in prison and 200 lashes by a Saudi court for a tweet calling for peace between Shia and Sunni communities.
It is not the first time that Al Shammari, a prominent human rights defender and writer in Saudi Arabia, experiences arbitrary detention and torture because of his advocacy for human rights and for peace between the two communities. Given the constant harassment of Al Shammari by the Saudi authorities, Alkarama had previously submitted numerous complaints to various UN special procedures on human rights in the past.
The first complaint submitted by Alkarama was following his arrest on 4 February 2007 and detained for three months without charge by the secret police for meeting with a Shia cleric. He was arrested again on 15 May 2010 before being released after a personal bail guarantee was made. During his detention, he was questioned about articles he had written criticizing anti-Shia discrimination. He was then accused by the police of "creating public attention against corruption". He was re-arrested on 15 June 2010 in Jubail without any warrant and charged with "troubling public opinion". On July 2011, Al Shammari was subjected to severe torture including threats to his life followed by an attempt to kill him to punish him for his complaints about prison conditions. In an effort to put further pressure on the Saudi authorities for Al Shammari's release, Alkarama sent his case to the Working Group on Arbitrary Detention (WGAD) on 28 July 2010, requesting its intervention on his behalf.
Continuing his human rights activism, in early November 2013, Al Shammari published a tweet on his official twitter account saying the following (full translation from Arabic):
"I have faith in tolerance between different parts of the community [Shiite and Sunni] that is why I will pray [for Shi'a/Sunni reconciliation] behind the Imam next Friday at Al Hamza mosque."
Following this tweet, Al Shammari was subjected to a criminal procedure and subsequently condemned, on 6 November 2014, by the Al Khubar Criminal Court, to two years imprisonment and 200 lashes on the charges of "stirring up public opinion".
Despite the numerous threats that he has received from the authorities, Al Shammari keeps on advocating courageously for peace and understanding between Shia and Sunni communities. "If we want to defeat terrorism, we should work for peace and unity between Sunni and Shi'a communities. I will work for that and pay the price," said Al Shammari to Alkarama.
Alkarama believes that Al Shammari's sentence for simply expressing a message of peace and harmony between communities through a tweet is a clear violation of the right to freedom of opinion and expression and of article 19 of the Universal Declaration of Human Rights (UDHR). Taking into account Al Shammari's history of punishment and harassment for his human rights activism, Alkarama considers that his current sentence is nothing but another punishment amounting to reprisals for his engagement as a human rights defender. Once the decision becomes final, it is evident that the detention will be arbitrary since it will be motivated by the exercise of his right of expression and his human rights activism.
Alkarama requested the UN Special Procedures to urgently examine Al Shammari's current situation and to demand the Saudi authorities to end all harassment against human rights defenders. Alkarama considers that Al Shammari's sentence does not only represent a violation of his right to freedom of expression, but also that it is used to punish him for, and deter him from defending human rights. The Saudi authorities should be reminded of their obligations under international law and revoke all charges against Al Shammari.
For more information or an interview, please contact the media team at media@alkarama.org (Dir: +41 22 734 1007 Ext: 810)