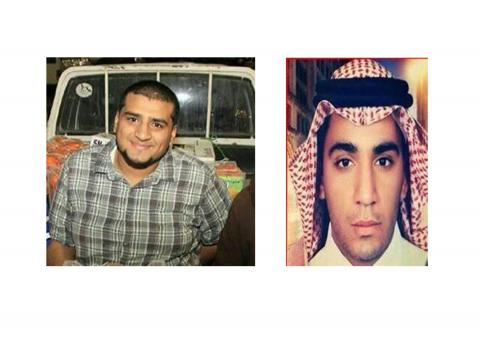 Abdelkarim Al Hawaj (L) and Mounir Aal Adam (R)
(Geneva, July 31, 2018) – On July 25, 2018, Alkarama requested the intervention of the UN Working Group on Arbitrary Detention (WGAD) in the cases of two Saudi nationals sentenced to death for exercising their rights to freedom of expression and peaceful assembly in trials that did not meet fair trial guarantees.
Abdelkarim Al Hawaj and Mounir Aal Adam were arrested on account of their alleged involvement in peaceful protests in the Eastern Province of Saudi Arabia. At the time of the demonstrations, Al Hawaj was 16 years old and Aal Adam 18 years old. Both were arbitrarily arrested, subjected to torture and convicted on the sole basis of coerced confessions. 
The Eastern Province is home to the majority of Saudi Arabia's Shi'a citizens and is an area of strategic importance as it sits on the world's largest ocean of underground oil reserves. Due to longstanding social, economic, civil and political discrimination against Shi'a in the region, protestors have taken to the streets, especially since the Arab uprising in 2011, to demand equality. The protests have been met with a severe crackdown by the Saudi authorities, who have arbitrarily detained demonstrators and sentenced at least 38 Shi'a protestors to death between 2013 and 2016.
Arbitrary detention and torture 
Aal Adam was arrested by intelligence forces without a warrant and without being provided with any reason for his arrest on April 10, 2012. He was then forcibly disappeared for three months, during which time intelligence officers electrocuted him on different parts of his body and subjected him to severe beatings with sticks and hoses. As a consequence, he became deaf in one ear.
Similarly, Al Hawaj was arrested by the Saudi intelligence services on January 17, 2014. He was not shown an arrest warrant nor given any reason for his arrest. He was then forcibly disappeared for five months. During this period, he was held in solitary confinement and subjected to other forms of torture. In particular, he reported that the intelligence officers tied him up, beat him on different parts of his body and pulled out his toenails.
Both Al Hawaj and Aal Adam were further subjected to threats, including of more torture and the arrest and killing of their family members. As a result, they signed and fingerprinted written confessions, which they were not allowed to read beforehand, admitting that they had participated in illegal demonstrations in the Al Qatif area of the Eastern Province.
Unfair trials before a court of exception
Al Hawaj and Aal Adam were tried before the Specialised Criminal Court (SCC) – a court of exception under the direct control of the Ministry of Interior (MoI). The trial took place two years after Al Hawaj's initial arrest and three years after Aal Adam's.
It was only during their trials that Al Hawaj and Aal Adam were officially informed of the charges against them, which included "participating in demonstrations" and "chanting anti-government slogans", amongst others.
While Al Hawaj was not assisted by a lawyer at any stage of his detention or trial, Aal Adam was only represented by a lawyer during his first three trial sessions. This is because both of their lawyers were threatened into dropping the cases by the court – a common practice in Saudi Arabia in politically sensitive cases. In addition, Al Hawaj's and Aal Adam's confessions were admitted into evidence and constituted the sole basis of their prosecution, despite the fact that they informed the SCC judges that they were extracted under torture.
Death sentence
On June 1, 2016, the SCC sentenced Aal Adam to death on the basis of the Sharia Law principle of Taz'ir. Ta'zir crimes are considered the least serious category of crimes under Sharia Law. Since Ta'zir crimes and the punishments they may incur are not codified, judges have a margin of interpretation as to which crimes fall under this category in practice and how they should be punished. Aal Adam's death sentence was also upheld by both the Appeals Court and Supreme Court on May 25, 2017, and July 23, 2017, respectively.
Similarly, on July 28, 2016, the SCC sentenced Al Hawaj to death on the basis on of a decision by the Council of Senior Religious Scholars – the highest religious authority in Saudi Arabia, tasked with advising the king on religious matters. Al Hawaj's death sentence was upheld – in a final ruling not subject to appeal – by the Saudi Supreme Court on September 11, 2017. On the same day, Al Hawaj's family was informed that his execution warrant had been signed.
Saudi Arabia's application of the death penalty in Al Hawaj's case constitutes a serious violation of international human rights law. Indeed, the imposition of the death penalty for minors is strictly prohibited and may not be applied for a crime committed by persons under 18 years old, regardless of their age at the time of trial, sentencing or execution of the sanction. In addition, it is well established that the imposition of the death penalty following unfair trials constitutes an arbitrary deprivation of life.
What is more, it is apparent from the employment of Ta'zir and the Council of Senior Religious Scholars' decision, that the Saudi authorities are using the pretence of religious discourse to completely suppress any act of peaceful dissent.
In light of the above information, Alkarama requested that the WGAD declare Al Hawaj's and Aal Adam's detentions arbitrary, and intervene with the Saudi authorities to call for their death sentences to be repealed and for their immediate release. 
For more information or an interview, please contact media@alkarama.org (Dir: +41 22 734 1006).