Alkarama launches its 2016 Annual Report.
Our website is being upgraded to a new design to offer our visitors a better browsing experience and richer content. New content will be added as usual, however some functionalities may not be available until the migration process is completed.
Palestinian Lawyer Shireen Issawi to Receive 2014 Alkarama Award for Human Rights Defenders
23 Sep 2014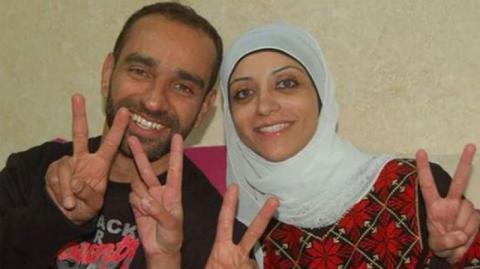 Geneva, 23 September 2014
Prominent lawyer in the Occupied Palestinian Territories, Shireen Issawi will receive the 2014 Alkarama Award for Human Rights Defenders. Shireen will be recognised for her courageous work in monitoring and documenting human rights violations committed by the Israeli authorities against Palestinian prisoners and advocating for their rights. The Alkarama Foundation will present its 2014 Award at the Ecumenical Centre in Geneva on Thursday 11 December, to mark Human Rights Day (10 December).
"The Alkarama Foundation is proud to honour Shireen Issawi for her significant work, incredible bravery and unfailing commitment in exposing the violations committed by the Israeli authorities against Palestinian human rights defenders. Shireen could not have been more aware of the risks she was taking in defending the cause of Palestinian political prisoners; yet, she has tirelessly and peacefully worked to bring change to the issue of Palestinian prisoners' conditions and rights," says Mourad Dhina, Alkarama's Executive Director.
A Palestinian lawyer, Shireen has committed her life to defending the rights of Palestinian prisoners of conscience unlawfully detained by Israel, in particular those in administrative detention. "Shireen's continuous action has raised the profile of Palestinian political prisoners, putting them on the international human rights agenda and drawing the world's attention onto Israel's excessive practice of administrative detention of Palestinian adults and children, most of them incarcerated without charge," said Rachid Mesli, Alkarama's Legal Director.
Shireen comes from a family of activists subjected to constant harassment by Israeli security forces. One of her brothers, Fadi was killed at the age of 16 by the Israeli army during protests that erupted following the Ibrahimi Mosque massacre in Hebron in 1994, whilst her four other brothers have all served long sentences in Israeli prisons. Spokesperson for the campaign to release her brother Samer, famous for his 266 days long hunger strike, Shireen was arrested by the Israeli authorities on 6 March 2014 shortly after his release, and has since been held in pre-trial detention, in solitary confinement. According to statistics published by Addameer, a Palestinian non-governmental civil institution that works to support Palestinian political prisoners, Shireen was one of 17 women detained by Israel at the beginning of May 2014 – out of 5,271 prisoners, which count 196 children, including 27 under the age of 16.
Allowed a visit from her mother shortly after Alkarama informed the Issawi family that their daughter had been awarded the 2014 Alkarama Award, Shireen asked her mother to "Please thank Alkarama and every free man who defends humanity, including human dignity and freedom."
"We are incredibly happy that people who do not know us support Palestinian human rights defenders. We thank all the organisations who defend the rights of people so they can live free and enjoy their rights in their country," says Shireen's mother, Laila.
Charged with three offences relating to 'cooperating with actors working against the state of Israel', Shireen's trial is set for three days of hearings on 23, 28 and 30 October 2014. "Shireen is one of the best and most professional lawyers in Palestine; I really hope that she will be released before the ceremony so she can receive her award in person," said Badee Dwaik, Coordinator of the Free Shireen Issawi Campaign. "In any case, this prize will mean a lot to her and to all human rights defenders in Palestine; it gives us more energy to keep fighting for our cause."
For more information or an interview, please contact Alkarama's Media team at media@alkarama.org (Dir: +41 22 734 1007 Ext: 810).
About the Alkarama Award for Human Rights Defenders
The Alkarama Award is a symbolic prize presented every year to an individual or an organisation that has contributed significantly to the promotion and protection of human rights in the Arab world. Past recipients include Abdulelah Haider Shaye (Yemen, 2013), Dr Saud Al Hashimi & Dr Mohamed Al Roken (Saudi Arabia & United Arab Emirates, 2012), Aida Seif Al Dawla & Said bin Zair (Egypt & Saudi Arabia, 2011), Haithem Al Maleh (Syria, 2010), and Ali Yahia Abdennour (Algeria, 2009).
To register for the 11 December event, please visit the Alkarama Award's Facebook page.