Omani MP Talib Al Mamari to Receive 2015 Alkarama Award for Human Rights Defenders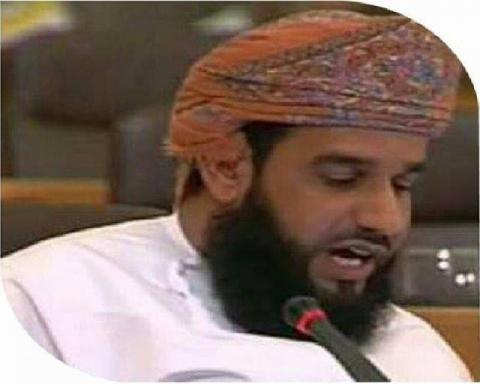 29 Sep 2015
A committed member of the Omani Parliament and environmental activist, Talib Al Mamari will receive Alkarama's 2015 Award for Human Rights Defenders in the Arab World, in recognition for his significant work defending human rights in the country, particularly since the crackdown on civil society following the protests of 2011. His nomination also honours Al Mamari's courage speaking up for the Omani civil society before the Parliament, and reminding both the government and petrochemical companies of their obligations. The Alkarama Foundation will present its 2015 Award at the Ecumenical Centre in Geneva on Tuesday 8 December 2015 ahead of Human Rights Day (10 December).
"Talib Al Mamari is a prisoner of conscience and a courageous human rights defender. By his unwavering non-violent fight against harmful environmental policies in Oman, he has become a model in the region as a dedicated militant who is genuinely close to the citizens' concerns. Alkarama is proud to honour him," says Mourad Dhina, Executive Director at Alkarama.
Elected to the Shura Council in 2011, Al Mamari dedicated his life to advocate for the rule of law and to ensure governmental accountability in protecting the environment and public health in Oman. The human rights defender stayed faithful to his commitment at the expense of his own freedom and fundamental rights. Three days after taking part in a peaceful demonstration against the petrochemical pollution threatening public health in his hometown of Liwa, Al Mamari was arrested on 24 August 2013 and charged with the offence of "crowding". Released on bail on 11 October 2013, he was re-arrested a few hours later before being prosecuted and tried in an unfair trial.
After his arrest, the Omani MP was held in solitary confinement in the Muscat National Security Prison and was not authorised to see his lawyer during the whole period preceding his appeal. In December 2013, the Court of Muscat sentenced him to four years in prison and a 500 Rials (about 1,300 US dollars) fine for "harming the State's prestige" as well as one year for "disturbing public order" and "obstructing traffic". Retried a number of times, his final sentence was confirmed by the Court of Appeal on 31 October 2014 to four years in prison and a 700 Rials (about 1,800 US dollars) fine.
He has since then been held in the Sama'il prison near Muscat, despite an Opinion issued by the United Nations Working Group on Arbitrary Detention in December 2014, following a communication submitted by Alkarama, qualifying his detention as "arbitrary" and requesting the Government of Oman "to take the necessary steps to remedy to the situation of Dr Al. Mamari," including "to immediately release him and to accord him an enforceable right to compensation." His case was also considered by the Inter-Parliamentary Union's Committee on the Human Rights of Parliamentarians, who acknowledged the importance of Al Mamari as a parliamentarian and the vital protection of his rights to freedom of expression and peaceful assembly.
"Al Mamari's case is iconic of the authorities' systematic crackdown on criticism," explains Radidja Nemar, Regional Legal Officer for the Gulf at Alkarama. "He was arrested merely for helping his constituents who elected him to claim their rights to a safe and healthy environment through democratic and peaceful means. By keeping him in prison, it is the democratic process itself that the Omani authorities are putting in jeopardy."
For more information or an interview, please contact Alkarama's Media team on media@alkarama.org (Dir: +41 22 734 1008).
About the Alkarama Award for Human Rights Defenders
The Alkarama Award is a symbolic prize presented every year to an individual or an organisation that has contributed significantly to the promotion and protection of human rights in the Arab world. Past recipients include Abdulelah Haider Shaye (Yemen, 2013), Dr Saud Al Hashimi & Dr Mohamed Al Roken (Saudi Arabia & United Arab Emirates, 2012), Aida Seif Al Dawla & Said bin Zair (Egypt & Saudi Arabia, 2011), Haithem Al Maleh (Syria, 2010), and Ali Yahia Abdennour (Algeria, 2009).