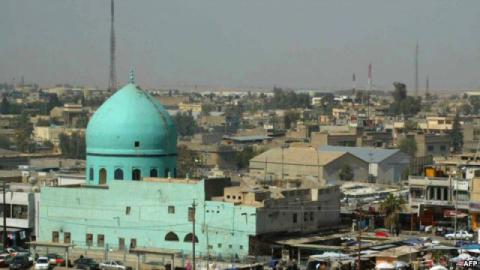 Alkarama welcomes the release, on 10 January 2016, of lawyer Mouayad Obeed Al Ezzi, who was arrested on the basis of an already cancelled arrest warrant by members of the police forces on 29 December 2015. The lawyer of several employees or persons with alleged personal connections with former Vice President Tariq Al Hashimi − all sentenced to death by the Central Criminal Court of Iraq on the sole basis of confessions extracted under torture and following a heavily flawed trial − Al Ezzi had been the victim of continued harassment since 2013. Concerned over his fate and the constant reprisals against lawyers in Iraq, on 13 January 2016, Alkarama seized the United Nations Special Rapporteur on the Independence of Judges and Lawyers (SR IJL) Monica Pinto, asking her to request information on his case from the Iraqi government and to urge the Iraqi authorities to fulfil their international obligations, guaranteeing that lawyers be protected from harassment or abuse.
On 29 December 2015, members of the police forces broke into 57-year-old Al Ezzi's house, arrested him and took him to the "tasfiraat" police facility in Kirkuk in the north of Iraq. His case dates back to 31 March 2013, when Al Ezzi was notified that an arrest warrant had been issued against him by the Central Investigating Court in Al Karkh on the basis of Article 4 of the Anti-Terrorism law − a warrant that was cancelled three months later on 24 June 2013 by the same court. After Al Ezzi's lawyer filed a release request proving the cancellation of the arrest warrant, the Kirkuk Court of Appeal finally closed Al Ezzi's case and released him on 10 January 2016.
Al Ezzi, together with two other lawyers, defended former Vice President Tariq Al Hashimi's members of staff, who were arrested by the Iraqi Security forces between November 2011 and March 2012 and sentenced to death for "acts of terrorism" due to their links with the former vice president. Due to their work in this case, Al Ezzi and the two other lawyers − Salah Khabbas Al Obeidi and Ziad Ghanem Shaaben Al Naseri − have been the victims of continued reprisals and harassment. As Al Ezzi, Al Naseri was also the victim of arbitrary arrest and detention on the basis of the Anti-Terrorism Law. Al Obeidi, in turn, was executed in his office by a group of armed people in 2013.
Alkarama welcomes Al Ezzi's release, but remains concerned over the constant repression of peaceful political opponents and their lawyers in Iraq. For these reasons, the organisation seized the UN Special Rapporteur on the Independence of Judges and Lawyers (SR IJL), calling upon this UN mechanism for human rights to request the Iraqi authorities to clarify the case of Al Ezzi and to stop the harassment and intimidation of lawyers and civil society in the country.
For more information or an interview, please contact the media team at media@alkarama.org (Dir: +41 22 734 1008).