ALGERIA: Soon to be considered before the United Nations Human Rights Council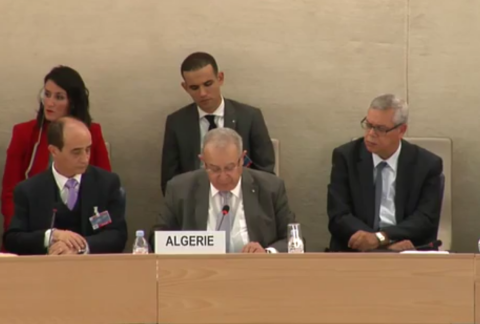 05 Apr 2022
On 31 March 2022, Alkarama submitted its report on the human rights situation in Algeria in view of its upcoming Universal Periodic Review (UPR) by the Human Rights Council scheduled for 7-18 November 2022 in Geneva.
History of the UPR
The United Nations Human Rights Council was created in 2006 to replace the Commission on Human Rights which was considered ineffective and selective, particularly in the condemnation of certain politically influential countries. The Universal Periodic Review, conducted every four and a half year by member states under the auspices of the Council, is a mechanism to review the human rights record of all countries. This event is an opportunity to establish a dialogue with the State under review and to note its progress in human rights through successive reviews.  
Algeria, reviewed for the 4th time
The UPR will take place in the form of a three and a half hour exchange with the official delegation of Algeria. Particular attention will be accorded to determining whether the recommendations made and particularly accepted during the previous reviews have been effectively implemented.
To this end, Alkarama recalled in its contribution the recommendations considered the most relevant, including those accepted by Algeria, during the previous reviews and noted a significant failure in the implementation of these recommendations. Indeed, out of the 206 recommendations that Algeria has received, none has been implemented to date. It is notable that during its first review in 2008, Algeria agreed to take the necessary steps to ratify the International Convention for the Protection of All Persons from Enforced Disappearance (ICPPED). However, fourteen years later, no steps have been taken. Similarly, Algeria has not ratified the Optional Protocol to the Convention against Torture, although it has undertaken to do so.
While the UPR seems to be achieving its objective by contributing to the improvement of the human rights situation in many member states, in Algeria the situation has continued to deteriorate, particularly over the last three years following the emergence of a widespread protest movement, the Hirak, which has been marked by a clear decline in fundamental freedoms. For example, the UN review mechanism has not managed to push Algeria to ratify a fundamental convention such as the ICPED, which raises the question of the effectiveness of this process, which aims to improve human rights in the world but struggles to ensure the implementation of the recommendations made.