Iraq: Another Case of Enforced Disappearance by the Military at a Checkpoint in Latifiya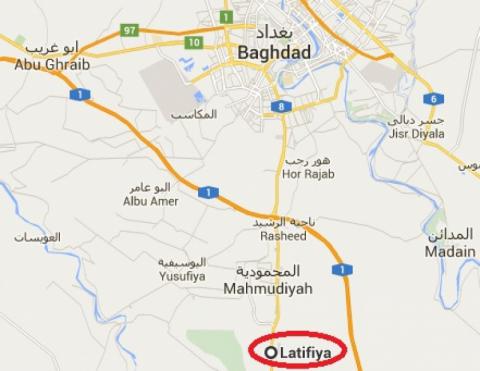 20 يوليو 2015
On 14 July 2014, Alkarama, in cooperation with Al Wissam Humanitarian Assembly, sent an urgent action to the United Nations Committee on Enforced Disappearances (CED) regarding the case of Khamis Al Ghurery, a 37-year-old Iraqi citizen who disappeared following his arrest by military officers in June 2014.
On 15 June 2014, Al Ghurery was driving his car with his sister when they arrived at the Bawabat (Gates) – Kilo 18 area checkpoint in Latifiya, south of Baghdad. After stopping Al Ghurery's car, military officers belonging to regiment no. 1, band no. 17 of brigade no. 25 took his identity card and forced him out of his car. Threatening him with weapons, the soldiers then handcuffed and blindfolded him before taking him and his car to an unknown location.
After his abduction and subsequent disappearance, Al Ghurery's family submitted complaints to the Central Criminal Court, the Latifiya police station, the Ministry of Defence, the Ministry of Interior and the Ministry of Human Rights. After having exhausted all domestic remedies and not being provided with any information on the victim's whereabouts, the family also reached out for the International Committee of the Red Cross (ICRC), whose mandate includes ascertaining the fate of missing persons when steps at the governmental level have failed, but they were still not able to locate Al Ghurery.
Al Ghurery's relatives then appealed to Al Wissam Humanitarian Assembly and Alkarama, who, having established this case of enforced disappearance, sent a communication to the UN Committee on Enforced Disappearance (CED) to call upon the Iraqi authorities to release him immediately, or at the very least to disclose his whereabouts and allow his family to visit him without restriction.
In view of the facts, Alkarama urges Iraq, as one of the few States in the region to be a party to the International Convention for the Protection of All Persons from Enforced Disappearance (ICPPED) – binding upon Iraq by virtue of its accession in November 2010 – to live up to its commitments and take all necessary measures to put an end to the widespread and systematic practice of enforced disappearance, in particular by:
• Taking the necessary legal measures to ensure that enforced disappearance is criminalised under Iraqi law and that the penalties provided reflect their grave nature;
• Ensuring that all cases of disappearances are thoroughly, promptly and effectively investigated, and that those responsible are prosecuted;
• Adopting measures to clarify the fate and whereabouts of all victims and ensure that any individual who has suffered as a result of the disappearance is entitled to redress;
• Explicitly prohibiting secret and incommunicado detention and taking the necessary measures to ensure that all secret detention facilities are closed;
• Allowing unexpected independent inspection of all places of detention.
For more information or an interview, please contact the media team at media@alkarama.org (Dir: +41 22 734 1008).