Syria: Political Activists Targets of Enforced Disappearance in Hama Governorate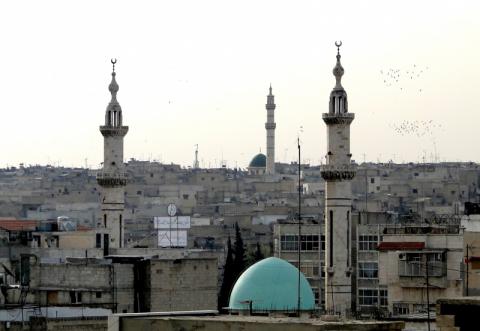 04 Mar 2015
On 27 February 2015, Alkarama and Human Rights Guardians sent a communication to the United Nation Working Group on Enforced Disappearances (WGEID) concerning the case of two Syrian political activists victims of enforced disappearance. Both disappeared since their respective arrests in the Hama governorate by members of Syrian Security Forces, between October 2011 and April 2012. These are further cases documenting the systematic use of enforced disappearance to silence and punish all the peaceful opponents to the regime.
On 17 October 2011, 39-year-old Hossam Ajoj was stopped and arrested by a patrol of the Air Force Intelligence near the Al Alaja roundabout in Hama. No arrest warrant or justification for his arrest was provided. In November 2014, a former detainee reported that Ajoj was being held in Branch 215 of the Military Intelligence Department in Damascus. Alkarama thus fears that he is at high risk of being tortured. As documented by the UN Independent International Commission of Inquiry on the Syrian Arab Republic, including in its most recent report, torture is in fact widespread and systematic in Syrian detention centres, especially within the premises of the Military Intelligence Branches.
On 30 April 2012, 47-year-old Mujahid Khattab was stopped by a patrol of the Syrian Army at the "Al Mahrouqa" checkpoint, located between Tabyat Al Imam and the village of Al Lataminah, in the governorate of Hama. According to witnesses of the incident, the members of the patrol, who were wearing military clothes, arrested Khattab without providing any arrest warrant or justification. This was the last time he was seen.
In both cases, the family of the victims did not file any formal complaint with the Syrian authorities, for fear of retaliation. Khattab's house had, in fact, already been raided several times by members of the Security Forces before his arrest; it was even set on fire during the last home raid in March 2012.
Alkarama and Human Rights Guardians therefore wrote to the WGEID to ask the UN experts to call on the Syrian authorities to launch an investigation into Khattab and Ajoj's disappearances and to release them immediately or, at the very least, to put them under the protection of the law. Their family should be informed of their fate and whereabouts and allowed to contact and visit them. It must also be reminded to the Syrian authorities that the ongoing armed conflict in the country cannot be used as a pretext to detain people incommunicado, and that they should put an immediate end to the widespread and systematic use of enforced disappearance, including as a tool of repression and terror.
For more information or an interview, please contact the media team at media@alkarama.org (Dir: +41 22 734 1007 Ext: 810)