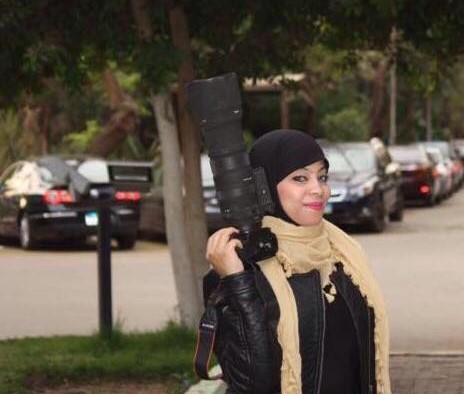 (Geneva, July 31, 2018) – On July 12, 2018, Alkarama requested the intervention of several UN Special Procedures* in the case of Aliaa Awaad, an Egyptian photojournalist who was arrested on October 23, 2017 for her coverage of terrorist activities, and is currently detained at Al Qanater Prison.
Awaad is among the many journalists in Egypt who have been punished under the Anti-Terrorism Law of 2015 for carrying out their work. This law criminalises any coverage of terrorist attacks or counter-terrorism operations in the country that is deemed to be not in line with the government's discourse.
It is the second time that the 33-year-old journalist has been arbitrarily arrested as a result of her work. Awaad was previously abducted on September 3, 2014 by the National Security Forces for having recorded a video in which masked members of the "Helwan Brigades" declared their intention to target police facilities in Helwan, a southern suburb of Cairo.
Following her abduction, Awaad was forcibly disappeared for one month, during which time she was forced to confess under torture to having shot and published the video because "she sympathised with the Muslim Brotherhood". On October 3, 2014, Awaad was seen in the National Security Services' headquarters by lawyers who were visiting the building. After asking her for her identity, they informed her family of her whereabouts.
As one of the 150 defendants prosecuted in the mass trial known as the "Helwan Brigades" case, on February 19, 2015, Awaad was charged with "joining a group established contrary to the provisions of the law", "promoting publications in support of this group", and "participating in a gathering for the purpose of sabotage". Awaad was released on March 28, 2016 due to health issues, although she was not cleared of the charges against her.
Awaad was arrested a second time on October 23, 2017 at the Institute of Police Secretaries of Tora, the police academy, after she was summoned by the State Security Prosecution to attend a hearing for the "Helwan Brigades" case. Following her arrest, she was forcibly disappeared until October 28, 2017, when her family was informed by security officers that she was being detained at the Helwan police station. They have been able to visit her every week thereon. On January 29, 2018, she was transferred to Al Qanater Prison, where she is currently detained.
During her detention, Awaad's health has deteriorated significantly. After doctors discovered benign uterine tumours, Al Qanater Prison's administration decided to subject her to a hysterectomy without her informed consent. However, on June 30, 2018, Awaad underwent surgery in government-run Kasr El Aini Hospital, where doctors removed her uterine tumours only, without subjecting her to a forced hysterectomy. Four days after the surgery, she was transferred back to Al Qanater prison, where the prison's administration is providing her with follow-up treatment, but is also subjecting her to psychological abuse.
On July 12, 2018, Alkarama submitted an urgent appeal to the UN Special Procedures, arguing that Awaad's rights to freedom of expression, liberty and security, and health and reproductive rights have been violated by the Egyptian authorities.
Alkarama requested the intervention of the UN experts to call upon the Egyptian authorities to immediately release Aliaa Awaad and drop all charges against her, and at the very least to provide her with adequate treatment.
Alkarama further requested that the Special Procedures appeal to the Egyptian authorities to protect their citizens' right to freedom of expression and to put an end to the use of anti-terrorism legislation to prosecute journalists for the mere coverage of terrorism or counter-terrorism operations.
For more information or an interview, please contact media@alkarama.org (Dir: +41 22 734 1006).
*Alkarama requested the intervention of the following UN Special Procedures: