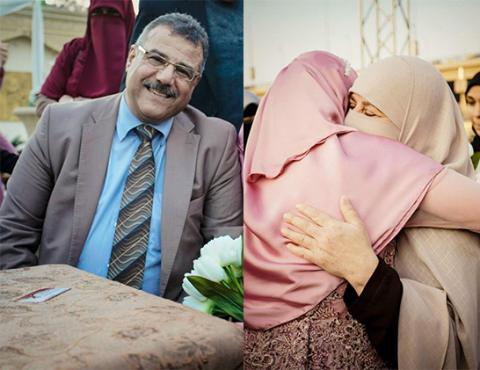 Kamal Hassan Mehdi Hassan and Manal Yamani Ala Yamani
(Geneva, May 30, 2018) – Alkarama has requested the urgent intervention of the United Nations Working Group on Enforced or Involuntary Disappearances (WGEID) in the case of a married couple who have been missing since their abductions by Egyptian homeland security on May 24, 2018.
Kamal Hassan Mehdi Hassan, a 56-year-old retired airport employee and his wife, 50-year-old Manal Yamani Ala Yamani were preparing for suhoor at around 3 a.m. on May 24 when officers of the State Security Forces dressed in civilian clothing stormed the family home in Al Obour City, Cairo.
After searching the house and interrogating Kamal and Manal for around 30 minutes, the officers asked their daughter to bring a piece of cloth so that they could blindfold her parents, before taking them away from the house.
Kamal and Manal's family believes that their disappearance may be connected to the fact that their son, Abdullah Hassan, was also disappeared for more than two weeks between May 30, 2015 and June 15, 2015. Abdullah was then tried as a civilian under military case 174, and sentenced to life imprisonment on May 29, 2016. Kamal and Manal's other son, Anas Hassan, was beaten to death by administrative security personnel after participating in a student protest on the campus of Cairo University on May 15, 2015.
On the day of their disappearance, the couple's family submitted complaints to the Public Prosecution, the Ministry of Interior, and the National Council for Human Rights, but to no avail. On May 25, Alkarama requested that the WGEID urgently intervene with the Egyptian authorities to call for the couple's immediate release.
The practice of enforced disappearance has seen a sharp increase in Egypt in recent years. In its 2017 annual report, the WGEID expressed concern that in 2016 alone, it transmitted 101 new cases to the Egyptian government under its urgent action procedure.
"Enforced disappearance has been recognised as one of the most serious crimes under international law, and its systematic practice amounts to a crime against humanity, opening avenues to prosecute perpetrators under International Criminal Law," said Khadidja Nemar, Regional Legal officer for the Nile and North Africa at the Alkarama Foundation.
For more information or an interview, please contact media@alkarama.org (Dir: +41 22 734 1006).