Alkarama launches its 2016 Annual Report.
Our website is being upgraded to a new design to offer our visitors a better browsing experience and richer content. New content will be added as usual, however some functionalities may not be available until the migration process is completed.
Algeria: Lakhdar Guellil Tortured with a Blowtorch by Gendarmerie in Aïn Oussera
04 Feb 2016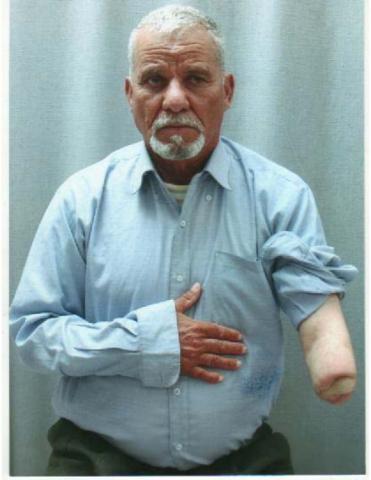 On 29 January 2016, Alkarama seized the experts of the United Nations Committee against Torture (CAT) with the case of Lakhdar Guellil. Arrested by police forces on 31 July 1996, the taxi driver from Djelfa City, located 300 km south of Algiers, was accused of not having denounced passengers he had brought to the nearby city of Aïn Oussera a few weeks beforehand, who were apparently sought for terrorism. Despite claims by the father of two, then aged 51, that he did not know them and that he had only carried them in return for payment like any other customer, the police did not hesitate to make him suffer the worst types of abuse, using torture techniques commonly practiced during the civil war to force him to confess his links with the suspects.
Tortured to amputation
In order to make him sign confessions, Guellil was flogged all over his body until he bled, underwent the cloth torture (or simulated drowning) until he passed out several times, and was burned with a blowtorch.
The victim woke up at the local hospital where he had been taken by the police, probably to prevent him from dying in their premises. Given the state he was in and the severity of burns suffered, especially at his hand and forearm, the doctor on duty could not do much for him. The police then hastened to present him on the same day to the prosecutor of Aïn Oussera, to whom Guelli was able to report, as well as to the investigating judge, the severe acts of torture he had been subjected to during his interrogation. Despite his testimony and the obvious marks of burns and wounds all over his body, the two judges merely temporarily released him, probably to prevent him from dying in detention. The law, however, required the latter to call for a medical examination and an investigation for crimes of torture.
The day after his release, on 6 August 1996, Guellil went to Djelfa hospital's forensic medical service, where the medical examiner provided him with a certificate for the burns and injuries suffered, and asked him to go to Algiers' Mustapha hospital as an emergency to undergo further treatments. Finding his left arm was severely infected following his blowtorch burns, the hospital's doctors immediately amputated it. It is only two months later that the taxi driver was able to return home in Djelfa, where he had to stay in bed for several months. During this period, he lived in great deprivation, with no resources to support his family, as even his taxi had been seized by the police.
Unfair trial and arbitrary detention
At the opening of his trial before the Djelfa Criminal Court on 28 February 1998, his lawyer provided the judges with evidence of the torture endured in detention by submitting the forensic certificate and a complete medical file. The judges ignored these arguments during an expeditious hearing and sentenced him to 15 years in prison.
Guellil was finally released from the Berrouaghia prison on 2 March 2006, eight years of arbitrary detention later, after becoming diabetic and losing his sight as a result of the acts of torture suffered. Completely broken, permanently disabled and without any means to live, the former taxi driver kept on trying to obtain justice by submitting complaints and requests to all judicial and political authorities in the country, including the President, without ever receiving a response.
Alkarama's actions
As all recourses undertaken at the national level were vain, if not impossible under the so-called "National reconciliation" Charter which prohibits any legal action against crimes committed by the Algerian security services during the civil war, Guellil was left with no other opportunity than to assert his rights by addressing the UN Committee against Torture (CAT).
Mandated by the victim, Alkarama seized the UN experts on 29 January 2016 to establish the severe violations suffered by Lakhdar Guellil and to call upon the Algerian authorities to provide him with compensation corresponding to the damage suffered.
For more information or an interview, please contact the media team at media@alkarama.org (Dir: +41 22 734 10 08).