Algeria: Alkarama seizes the UN High Commissioner for Human Rights to warn authorities against any misconduct by security services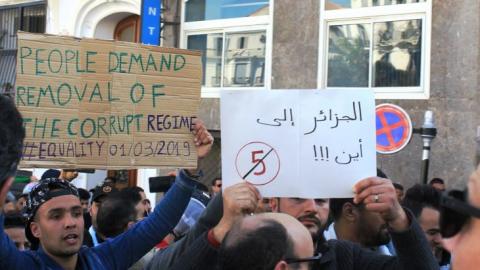 06 Mar 2019
Today, the Alkarama Foundation raised the current situation in Algeria with the United Nations High Commissioner for Human Rights as well as the concerned special procedures, after the announcement that Abdelaziz Bouteflika, currently hospitalized in Geneva, is running for a fifth presidential term.
Alkarama highlighted in particular the extent of the demonstrations that gathered several million people in the streets to say "no" to a fifth term, and to call for a radical regime change and the establishment of the rule of law.
Alkarama recalled the latest recommendations made by the experts of the Human Rights Committee during the periodic review of Algeria at its 123rd session in July 2018, which expressed concern on the question of freedom of peaceful protest in Algeria. The Committee strongly recommended that the Algerian authorities take effective measures to ensure that law enforcement personnel do not use excessive force during crowd dispersal operations.
Alkarama informed the Office of the United Nations High Commissioner for Human Rights that, despite this recommendation, some security officials are committing violent attacks on peaceful protesters and ordering their subordinates to use violence without this being justified.
Alkarama expressed fear that such police provocations, even if isolated today, would lead to radicalization that would drag the country into a spiral of uncontrollable violence.
Alkarama calls on the United Nations High Commissioner for Human Rights and the concerned special procedures to urge the Algerian authorities to give firm instructions to all of their security services to refrain from any use of force against peaceful protesters.
The Algerian authorities are required to open investigations to identify, bring to justice and punish all those responsible for violence against demonstrators, in order to preserve the peaceful nature of the widespread protest movement in the country.
Alkarama submitted audio-visual recordings and photographs in support of its urgent communication.