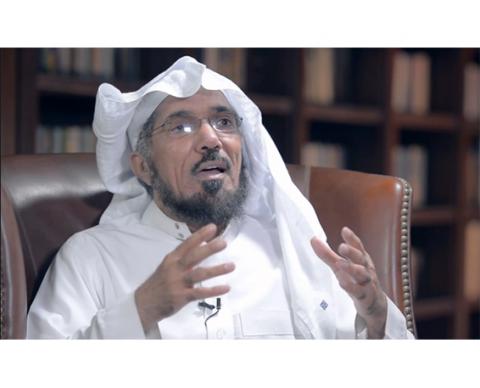 (Geneva, September 24, 2018) – On September 20, 2018, Alkarama submitted the case of prominent Islamic Scholar Salman Al Odah to the UN Special Rapporteur on counter-terrorism and human rights (SRCT).
Al Odah has been arbitrarily detained since September 2017 for acts falling within his fundamental right to freedom of opinion and expression. His trial commenced before the Specialised Criminal Court (SCC) on September 4, 2018. During the hearing, the public prosecution informed him of the charges against him for the first time, and stated that they would be seeking the death penalty.
Mass arrests of peaceful dissenting voices
In September 2017, the Saudi authorities initiated a campaign of mass arrests targeting individuals from all sectors of society, including members of the royal family, human rights defenders, businessmen, scholars and public figures. This was reportedly linked to the ongoing Gulf diplomatic crisis and major changes in the balance of power within the ruling family. The trend has intensified again in recent months, with at least 15 human rights defenders – mostly women – arrested since May 2018.
On December 22, 2017, a group of UN Special Procedures wrote to the Saudi authorities in relation to a number of cases, including that of Salman Al Odah. The experts expressed "very serious concern about [...] a pattern of widespread and systematic arbitrary arrests and detention of persons [...] for peacefully exercising their human rights to freedom of expression, belief, assembly and association".
Similarly, on May 30, 2018, the European Parliament adopted a resolution in which it noted that "the [Saudi] social system remains undemocratic and discriminatory" and "severely represses all voices of dissent". It went on to call on the EU delegation to the United Nations to raise the issue of the state's membership in the Human Rights Council (HRC) given its "questionable human rights record".
Al Odah's arrest
On September 9, 2017, Al Odah published a tweet calling for mediation between Qatar and Saudi Arabia in the wake of the Gulf diplomatic crisis. Shortly after, he was arrested from his home by the Mabahith intelligence forces.
Following his arrest, Al Odah was forcibly disappeared until December 26, 2017. While in prison, he has been held in solitary confinement with little access to his family, and denied legal representation at all stages of proceedings. What is more, Al Odah's brother, Khalid, was also detained after tweeting about Salman Al Odah's arrest, and a travel ban has been instated against 17 members of the Al Odah family.  
On September 4, 2018 – a year after he was arrested – Al Odah's trial commenced before the SCC. Established in 2008 by the Ministry of Interior (MoI), the SCC is a court of exception with jurisdiction to try cases of terrorism, which has been used to prosecute human rights activists and peaceful political dissidents under the pretext of protecting national security. The court is not composed of independent judges, but of a panel appointed by the MoI, and the SCC cannot, therefore, be considered independent.  
During this closed hearing, Al Odah was informed of the 37 charges against him for the first time. The first set of charges relate to his alleged affiliation with "terrorist organisations", including the Muslim Brotherhood and the European Council for Fatwa and Research. The second set of charges relate to Al Odah's public support for demonstrations across the Arab region and his calls for reform within Saudi Arabia. In particular, the Saudi authorities accuse him of exposing "injustices towards prisoners", expressing "cynicism and sarcasm about the government's achievements" and supporting "revolutions in Arab countries through the promotion of videos".  Finally, the third set of charges relate to alleged affiliations with the Qatari royal family and Al Odah's unwillingness to publically support the Saudi-led boycott of the state.
During Al Odah's hearing, the Public Prosecution also revealed that they are seeking the death penalty on the basis of the Islamic Law principle of Ta'zir. Given that the principle of Ta'zir is not codified, judges have a substantial margin of interpretation as to which crimes fall under this category and how they should be punished. As such, it has been used as a political weapon by the Saudi authorities to methodically suppress peaceful opposition.
Counter-terrorism legislation violates Al Odah's right to freedom of expression
Al Odah is seen to pose a threat to the Saudi authorities as he uses his public standing to write and preach against a tradition promoted by some Moslem scholars that demands absolute obedience to the ruler. As such, his prosecution constitutes an attempt by Saudi Arabia to deter any and all challenges, even peaceful, to its absolute monarchy.
The Anti-Terrorism Law on which the charges against Al Odah are based has received sustained criticism from the international community. Following his country visit to Saudi Arabia, the former SRCT expressed his concern about the use of the law to silence dissenting opinions deemed to endanger "national unity" or those "undermining the reputation of the king or his standing". The Cybercrime Law, which was also cited by the prosecution, is equally problematic and punishes "publishing material impinging on public order, religious values, public morals and privacy" with five years in prison.
Ahead of Al Odah's next trial session, scheduled for October 3, 2018, Alkarama requested the SRCT's urgent intervention with the Saudi authorities to call for his immediate release.
For more information or an interview, please contact media@alkarama.org (Dir: +41 22 734 1006).