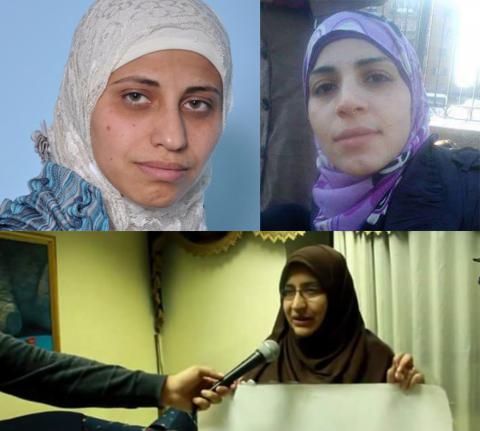 On March 8, 2018, the Alkarama Foundation marked International Women's Day by celebrating the important work of women human rights defenders across the Arab world while also speaking up for the thousands of women across the region who have fallen victim to severe human rights violations in recent years.
Since its establishment, Alkarama has been relying on women human rights defenders across the Arab world, and International Women's Day gives us an opportunity to pay tribute to their courage and sense of sacrifice and to recognise their essential contributions to the strengthening of civil societies across the region.
At the same time, the day also provides a platform to speak up for victims of human rights violations such as enforced disappearances, arbitrary arrests and torture, including the many women who are subjected to or at risk of gender-based violence.
International Women's Day is a time to consider how to best act upon a number of issues affecting women across the world, and to celebrate women who are positively impacting their communities. As an organisation, we wish to speak up for the many women we have worked with or on behalf while working to protect human rights in the Arab world. Among the women we are speaking up for this International Women's Day are:
Hanane Othman
Dr Hanane Othman is a human rights activist working to support women whose family members have disappeared in Egypt. She was arrested on May 6, 2017 at the Al Qanater prison, where she had gone to enquire about the fate of her husband, who disappeared in 2013. Othman was interrogated about her human rights activism for several hours, during which time she was subjected to severe psychological torture. Alkarama submitted her case to the United Nations Working Group on Arbitrary Detention (WGAD) on July 25, 2017, at which time she was detained incommunicado at Al Qanater prison for women, with her detention renewed every 15 days without legal process. She has been charged with "founding an illegal women's organisation" among other charges. On February 2, 2018, the WGAD published an Opinion in which it qualified Othman's detention as arbitrary and called for her immediate release.
Ruba Bakkar
In Syria, 30-year-old Ruba Bakkar disappeared along with her two young children following their arrests by government forces in 2013. At the time, Bakkar was living with her children – Ahmad, aged 11, and Maram, aged 9 – in a camp for internally displaced persons in Homs while her husband was living in the Jairoud area of Syria. On July 3, 2013, Bakkar and the children were collected by a driver in Homs to travel to Jairoud for the month of Ramadan. Her husband last heard from her as she was stopped at a checkpoint during the journey, and he has been unable to communicate with his wife and children since. However, he was later informed that his wife was detained at the investigation branch of the Military Intelligence. Considering the scale of gender-based violence in Syrian detention facilities, on October 18, 2017, Alkarama and Urnammu for Justice and Human Rights sent an urgent appeal to the Working Group on Enforced or Involuntary Disappearances (WGEID) requesting that they intervene with the Syrian authorities to ensure Ruba Bakkar and her children's immediate release.
Dareen Tatour
On October 11, 2015, officers of the Nazareth Police – escorted by a unit of Israel's Border Police –raided the home of Palestinian poet Dareen Tatour, and arrested her without presenting a warrant nor providing any reasons for the arrest. Tatour was forced to sign an investigation report while in custody, but she was not informed of the charges against her until November 2, 2015, when she was indicted with "incitement to violence" and "support of a terrorist organisation" by the Magistrates' Court in Nazareth. The two charges were based on her poetry and her activity on social media. Tatour has been under house arrest since her pre-trial detention ended on January 13, 2016, and her trial is still ongoing. On December 15, 2017, Alkarama sought the urgent intervention of the United Nations Special Rapporteur on the promotion and protection of the right to freedom of opinion and expression, David Kaye, requesting that he urge the Israeli authorities to put an end to Tatour's house arrest immediately and unconditionally. Alkarama further requested that the Special Rapporteur insist that all charges held against her be dropped, as she is being held solely for her peaceful exercise of her right to freedom of expression.
For more information or an interview, please contact media@alkarama.org (Dir: +41 22 734 1006).