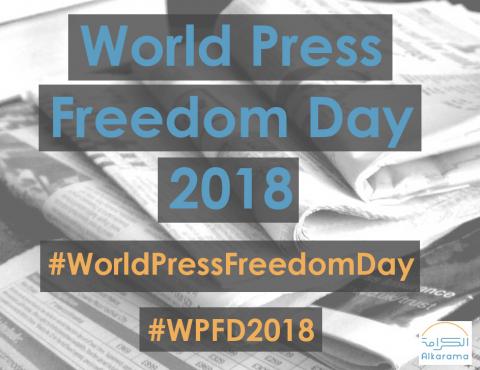 Geneva (May 3, 2018) – May 3 marks World Press Freedom Day 2018, this year based on the theme  Keeping Power in Check: Media, Justice and The Rule of Law. While providing a platform to celebrate press freedom and to speak up for journalists who have been subjected to abuses as a result of their work, this year's theme also provides the opportunity to address flaws in legal systems across the Arab world in order to create a legal environment conducive to freedom of the press.
According to the United Nations Educational, Scientific and Cultural Organization (UNESCO), the theme "highlights the importance of an enabling legal environment for press freedom, and gives special attention to the role of an independent judiciary in ensuring legal guarantees for press freedom and the prosecution of crimes against journalists."
This year's theme is particularly pertinent in the Arab world, where, in recent years, governments have been passing increasingly restrictive legislation, severely limiting their citizens' rights to freedom of opinion and expression.
A prominent example of this trend is Egypt, where more than 60,000 individuals have been arrested since 2013, a majority for acts of free speech. Among these individuals, numerous journalists have been detained, tortured, and sentenced to heavy penalties as a direct result of their work. Alkarama's January 2018 report Making Silence the Law of the Land: Egypt's crackdown on freedom of expression explained how Egypt's repressive legal framework criminalises the peaceful exercise of fundamental freedoms.
In fact, Egypt is one of nine countries in the Arab world – alongside Iraq, Libya, Bahrain, Yemen, Saudi Arabia, Djibouti, Sudan, and Syria – that sit among the 22 countries where the situation of press freedom is considered to be in a "very bad" state, according to Reporters Without Borders' (RSF) 2018 World Press Freedom Index. RSF's regional analysis shows that the Middle East and North Africa region continues to be ranked lowest worldwide for levels of freedom available to journalists.
Syria – described by RSF as "one of the world's deadliest country for journalists" ranks lowest in the region at 177 out of 180 countries. In Iraq – ranked 160, two places lower than 2017's ranking – Alkarama has documented the case of well-known Iraqi-Norwegian freelance journalist and political commentator Samir Al Daami – also known as Samir Obeid – who, after spending nearly two months in prison, was released in December 2017 only to be re-arrested and forcibly disappeared less than two months later. In February 2018, Al Daami was brought before a court and charged with "broadcasting false or biased information, statements or rumours" under article 210 of the Penal Code in relation to a Facebook post in which he criticised Iraq's prime minister. His next hearing will take place on May 14.
Another notable regional development in the World Press Freedom Index saw the United Arab Emirates' ranking fall from 119 to 128 between 2017 and 2018. Describing the country as a "master of online surveillance of journalists", RSF noted the many journalists and bloggers who have been imprisoned under the 2012 cyber-crime law as a result of their work. The cyber-crime law is one component of a broader legal framework in the UAE which has been used to limit space for civil society and restrict the rights to freedom of opinion and expression. In 2014, blogger Osama Al Najjar was sentenced to three years' imprisonment on charges including "instigating hatred against the state via Twitter" and "designing and running a website harmful to UAE institutions". More than one year after completing his sentence, Al Najjar remains in administrative detention to date.
This reflects a broader trend across the majority of the Gulf region, where the media landscape is non-independent and state-owned, in large part due to a hostile legal environment which leaves little room for independent and critical voices. One example is Kuwait, where, under the National Security Law No. 31 of 1970, individuals can be imprisoned for three years for "intentionally broadcasting news, statements, or false or malicious rumours [...] that harm the national interest of the State". More recently, the Cybercrime Law No. 63 of 2015 contains provisions that extend Article 25 of the Criminal Code to provide for prison sentences for "criticising the Emir on the Internet".
Within this hostile legal environment, a number of independent publications have been shut down by the authorities in recent years, including Al Wasat in Bahrain, Dar Al Watan TV Channel in Kuwait, and the Muwatin Media Network in Oman. After resuming publication on May 3, 2017 (Muwatin had previously suspended operations as a result of the judicial harassment of its staff), the Omani authorities blocked its website inside the country. Founder and editor-in-chief Mohammad Al Fazari has continued the work of the Muwatin Media Network abroad after seeking political asylum in the UK in 2015. While it is important to celebrate the network's recent establishment of a centre for press freedom, it is concerning that the legal environment in Oman is such that a journalist critical of the authorities is left with no choice but to leave the country. Al Fazari's family in Oman continue to be subjected to reprisals including travel bans as a result of his work.
On this World Press Freedom Day, it is essential that the international community speak up for journalists across the Arab world who have been subjected to abuses as a result of their work or critical opinions. At the same time, it is also vital that states in the region are encouraged to amend restrictive legislation in order to ensure that these abuses have no legal basis, and to work towards establishing an environment within which journalists are able to freely practice their work without fear of arrest or harassment.
For more information or an interview, please contact media@alkarama.org (Dir: +41 22 734 1006).