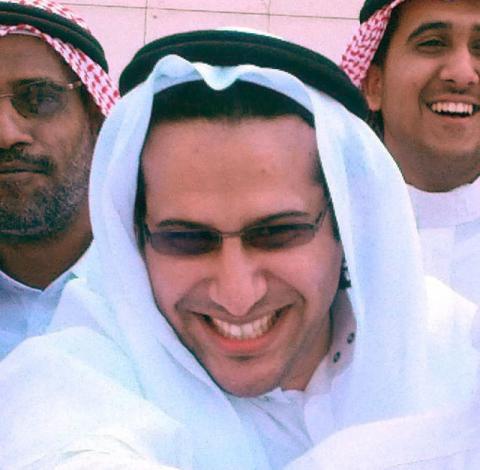 On 15 April 2014, 34 year-old prominent Saudi human rights defender Waleed Abu Al Khair, went to his 5th hearing session before the Special Criminal Court in Riyadh. At 8 am, he made a last phone call to his wife in Jeddah, informing her he had to turn off his cellular phone as he was entering the court room. She learnt the day after that he had been taken in the middle of his hearing to Al Hayer Prison. This is where he has been unlawfully detained and tortured ever since. After the ACPRA co-founders Qahtani, Al Hamid and another dozen human rights activists, Waleed is another example of the ongoing crackdown conducted by the Saudi authorities against human rights defenders in the kingdom who are being targeted for having only peacefully expressed their opinion and defended the most basic rights of their fellow citizens. Today, Alkarama solicited the urgent intervention of the UN Special Rapporteur on human rights defenders to ensure that Waleed is released immediately and put an end to any act of reprisal against him.
Waleed Abu Al Khair is a Saudi lawyer, a human rights activist and the head of the Saudi Arabia Monitor of Human rights, an independent human rights NGO founded in 2008. During these past two years, he also peacefully expressed his support for reforms in his country by signing a petition asking for more political inclusiveness, as well as a petition demanding the release of the thousands of political prisoners arbitrarily detained in the country.
For over a decade, he has been targeted by the Saudi authorities for his peaceful human rights activism. Since March 2012, he has been banned from traveling abroad and two cases were filed against him regarding his associative activities and his contact with human rights organisations. In 2012, the Criminal Court of Jeddah opened a case against him for, amongst other, "being in contact with foreign organisations and media and spreading a bad image of the country". In this case, Waleed was sentenced in October 2013 to three months of imprisonment for his alleged "contact with foreign organisations" and "signing a petition demanding the release of detainees".
Despite the increasing pressure and his continuous harassment by the authorities, Waleed continued to organise public weekly meetings (diwaniya) at his home every Wednesday, inviting Saudi reformists and ordinary citizens to discuss civil, political and social matters and screen movies.
On 2 October 2013, after the end of one such regular weekly meeting, local police from the Al Sharafiyah neighbourhood in Jeddah summoned Mr Abu al Khair. After complying with this convocation, he went to the police station, where he was arrested by the judicial police and detained before his interrogation by the Prosecutor the day after. On 3 October 2013, Alkarama submitted an urgent appeal to the UN Special Rapporteur on the situation of human rights defenders regarding his arrest. The day after, he was released.
In September 2013, Mr Abu al Khair was already summoned by the Specialised Criminal Court of Riyadh to be questioned regarding the second case pending against him for several charges such as "disobeying the ruler", "creating an unauthorised association" and "disturbing the public order". The Specialised Criminal Court in Riyadh was set up in 2008 to try terrorism cases, but the court is increasingly used to try peaceful dissidents and rights activists on politicised charges and its proceedings systematically violate the right to a fair trial. On 9 February 2014, Mr Abu al Khair was summoned by the Criminal Investigation Services, where he went the next day. He was briefly arrested and finally released the same evening.
Two months later, on 15 April 2014, Waleed Abu al Khair went to Riyadh to attend the fifth hearing of his trial before the Specialised Criminal Court. At 8 a.m., he called his wife, Samar Badawi, to inform her that he had to switch off his phone during the hearing. That was the last call he made.
The next morning, as she still had no news of him, Samar went to the Court of Riyadh to inquire about her husband's whereabouts. She was informed that he had been arrested and was being detained in Al Hayer political prison. Mrs Badawi immediately went there and requested to see her husband. This request was denied allegedly because of the "special procedures they had to undergo with political detainees" as they are handled by the Ministry of Interior.
She later met with an official from the Ministry of Interior who told her that she could not visit her husband. She was also informed that Mr Abu al Khair was not allowed to see his lawyer.
On 22 April 2014, Waleed's lawyer went to the court to request that his client be released and happened to find Mr Abu al Khair there, attending his sixth hearing without the assistance of a lawyer and in a violation of the right to a public and fair trial.
The lawyer also learnt that Waleed was being tortured. The victim has been continuously exposed to bright lights directly onto his face and thus constantly deprived of sleep. He is also denied access to his lawyers, his wife and other relatives. The torture he is being subjected to appears to be in retaliation for his human rights activism.
The Saudi authorities are accustomed to using systematic methods of torture against reformists and activists detainees to force them to make false confessions and put an end to their human rights activism.
Mr Abu al Khair is clearly detained for having exercised his rights and freedoms protected under international law, namely his right to freedom of expression and association and for his activities as a lawyer and a human rights defender. Today, Alkarama requested the urgent intervention of the UN Special rapporteur on human rights defenders to call on Saudi Arabia to immediately release Mr Abu al Khair and to put an end to any act of harassment or reprisal against him.
--
"This is not a campaign against me; this is a campaign against all human rights defenders and reformists in Saudi Arabia" - Listen to Waleed Abu Al Khair's interview with Alkarama before his arrest