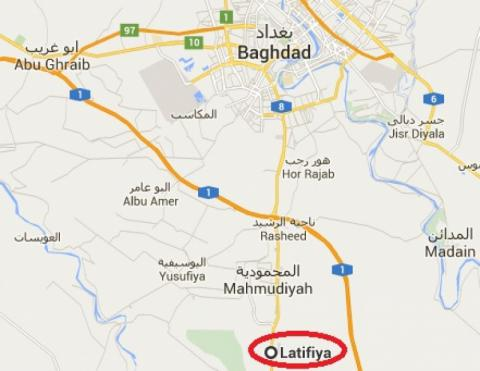 On August 25, 2017, Alkarama and Al Wissam Humanitarian Assembly wrote to the United Nations Working Group on Enforced Disappearances (WGEID) regarding the disappearance of Hazim Al Janabi, a daily worker from the small town of Latifiya, south of Baghdad.
Al Janabi was driving with his cousins on August 23, 2006 when he was stopped near the Yusufiya's Bridge, at a checkpoint manned by the Iraqi Military Division no. 17. The officers arrested Al Janabi along with all other passengers travelling with him, before confiscating the vehicle.
Due to its strategic location, the checkpoint in Latifiya where Al Janabi was arrested acts as a gateway to Baghdad. In recent years, military checkpoints have become the location of regular abductions and enforced disappearances carried out by soldiers or state-sponsored militias in Iraq. Some individuals suspected of having ties with terrorist organisations have also been abducted at the Latifiya checkpoint, including Khamis Al Ghurery, abducted on June 15, 2014.
Shortly after the abduction and subsequent disappearance of Hazim Al Janabi, his family inquired about the fate and whereabouts of the victims at the headquarters of the Iraqi Military Division, as well as at the police station of Yusufiya and the court of Mahmoudiayh. However, they were not provided with any information.
Iraq became party to the International Convention for the Protection of all Persons against Enforced Disappearances on November 23, 2010, more than four years after Hazim Al Janabi's abduction. However, the fact that the disappearance continues up to now obliges the Iraqi authorities to thoroughly, promptly and effectively investigate Al Janabi's case in order to both clarify his fate and whereabouts, and prosecute all those responsible.
Iraq remains the most affected country by enforced disappearances worldwide. Starting in the time of Saddam Hussein, during which approximately 250,000 people were disappeared, this phenomenon increased during the US-led invasion in 2003 and is today a widespread and systematic practice, with security forces and affiliated militias operating with complete impunity. Since 2015, authorities invoke the fight against terrorism and the war against IS to justify and carry out mass arrests followed by incommunicado detention, operating outside any legal framework.
For more information or an interview, please contact media@alkarama.org (Dir: +41 22 734 1008)