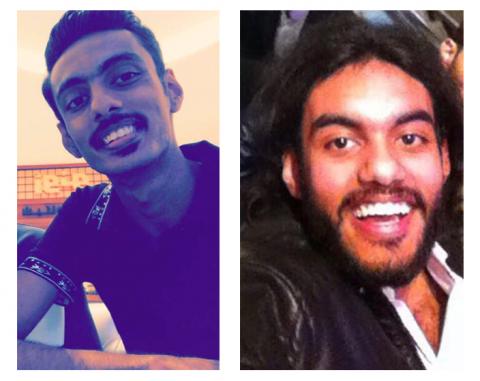 Abdulmajeed Al Zahrani (L) and Ahmad Al Zahrani (R)
(Geneva, September 7, 2018) – Two brothers of Canada-based political activist Omar Al Zahrani have been arrested in Saudi Arabia after being pressured to convince their brother to halt his activism. Ahmad and Abdulmajeed Al Zahrani's family has not heard from the brothers since they were summoned to Dhahban Central Prison, north of Jeddah, on August 21.
Omar Al Zahrani, who applied for asylum in Canada while living there as a student in 2014, has spoken publicly about the diplomatic rift between Saudi Arabia and Canada on a number of occasions since it began in early August.  
The rift was sparked when Canada's department of diplomatic and consular relations posted a tweet on August 3 expressing concern over Saudi Arabia's arrest of a number of human rights activists, including prominent women's rights activist Samar Badawi.
In response, Saudi Arabia expelled the Canadian ambassador from the country, summoned its own ambassador home, stated that all Saudi students studying in Canada would be relocated, froze a number of trade deals, and suspended flights from Saudi Arabia to Toronto.
Over the past month, Omar has been active on social media, criticising the Saudi authorities, as well as giving interviews to several news outlets.
On August 7, Omar's brothers, 25-year-old Ahmad and 19-year-old Abdulmajeed, were arrested after officers of the State Security Services raided their family home in the Al Rawdah district of Jeddah, and took them to the Dhahban prison.
Ahmad and Abdulmajeed were interrogated and pressured to convince Omar to stop his activism, before subsequently being released.
Omar Al Zahrani did not stop his activism, and a few days later, Ahmad and Abdulmajeed were asked to return to Dhahban prison for further interrogation. They were again pressured – and Ahmad subjected to electrocution – to convince Omar to immediately stop his activism, and released thereafter.
The two brothers were summoned to Dhahban prison again on August 21. Their father, Abdulaziz, drove them to the prison and waited for them outside. Four hours later, prison personnel told Abdulaziz to go home and that his sons would not be coming with him.
Since then, Ahmad and Abdulmajeed Al Zahrani's fates and whereabouts remain unknown. Their family contacted the Dhahban prison administration, but were told that they had no information on Ahmad and Abdulamajeed, and told not to call back. Their family also enquired with the Office of the Public Prosecutor, but to no avail.
The arrests of Ahmad and Abdulmajeed occurred two weeks after Omar first received threats due to his online human rights advocacy. As Ahmad and Abdulmajeed have never been politically active themselves, it is believed that they were arrested solely to pressure Omar to halt his activism.
On September 5, Alkarama requested the urgent intervention of the UN Working Group on Enforced or Involuntary Disappearances with the Saudi authorities to immediately release Ahmad and Abdulmajeed or, at the very least, to put them under the protection of the law and inform their relatives of their fates and whereabouts.
For more information or an interview, please contact media@alkarama.org (Dir: +41 22 734 1008).