Alkarama launches its annual report… Fighting Impunity in the Arab World More Urgent Than Before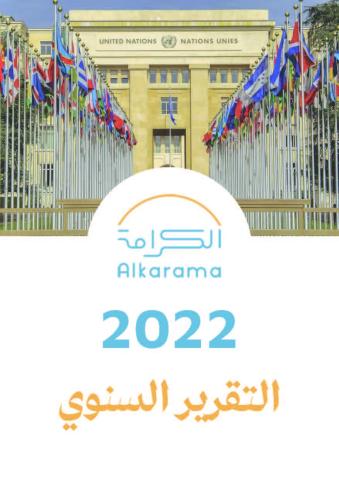 14 Feb 2023
Alkarama Human Rights launched its annual report on the state of human rights in the Arab world in two languages (Arabic and English). The report is based on the outcome of its legal activity through individual complaints before the United Nations (UN) Special Procedures and shadow reports before the treaty bodies established under international conventions.
"One cannot help but notice that impunity stands out as a recurring theme, a defining feature of the various countries in the region, despite their differences", explained Director of Alkarama, Lawyer Rachid Mesli, adding that successive regimes and non-state actors alike have benefited from a climate of impunity "both in times of war and in times of peace."
"Alkarama's team firmly believes that documenting injustice, case by case, report by report, is an essential part of building justice and accountability," said lawyer Mesli. "Cases of human rights violations to international legal mechanisms means bearing witness to the abuses and atrocities committed throughout the region."
The report provides an accurate and focused diagnosis of the human rights situation across the Arab world, drawing on years of hard work in advocacy through the tools of international law. It brings attention to the issue of impunity for human rights violations, as a common culture across the region, the consequences of which continue to be suffered by victims from all backgrounds.
The road to justice and accountability for human rights violations may seem long and arduous, but it remains "an imperative journey and a fundamental responsibility for the human rights community globally" the report says.
"Facing the powerful actors that enjoy this impunity and the many obstacles in obtaining justice for their victims, one can quickly question the effectivity of international human rights advocacy", the report continues, adding: "In the midst of doubt, we hold on firmly to our conviction that this work must be done and carried out, generation after generation."
The report shows that Alkarama has made great efforts to defend victims of violations and obtain, through documented reports, resolutions and recommendations from various United Nations mechanisms condemning violations and urging an improvement in the human rights situation. For many victims, these decisions represent the only meaningful chance of obtaining some form of recognition, if not advocacy and justice.
According to the report, this task is all the more important given the absence of local accountability mechanisms at the level of Arab countries, whether legal, media or civil society-based.
This is further complicated by the absence of judicial independence, while National Human Rights Institution (NHRI) remain under the control of executive authorities and civil society spaces are constrained by repressive laws.
Alkarama's annual report cites the UN Secretary-General's 2022 report on reprisals committed by UN member states against individuals who cooperate with the UN, stressing that a quarter of the countries mentioned are from the Middle East and North Africa region. Moreover, according to the Press Freedom Index, for 2022, most MENA countries were ranked in the bottom third globally in terms of press freedom and journalist safety.
Over the years, Alkarama has highlighted the common pattern of Arab governments in punishing journalists, human rights defenders and victims who dare to seek redress before UN mechanisms.
Counterterrorism and national security remain the preferred justifications for MENA countries to suppress their civil societies and peaceful dissenting voices.
However, these reprisals and intimidation have not deterred Alkarama's resolve and UN mechanisms to advocate for human rights. They failed to achieve their goal of silencing voices demanding justice and accountability, and the intensification of crackdowns on civil society indicate that these authoritarian regimes are living their last days of impunity.
As it approaches two decades of tireless advocacy since its creation, Alkarama has, as stated in its report, "witnessed the creation of new civil society organizations and increased engagement with UN human rights mechanisms".
Alkarama is grateful "to the steadfast and dedicated men and women who risk their lives to defend dignity and human rights in the Arab region and keep speaking up for those who are being silenced by their governments."
Alkarama also thanked the UN independent experts responsible for special procedures, treaty bodies and Office of the High Commissioner of Human Rights (OHCHR)  staff "for their dedicated cooperation and continued trust and support."