2015 Alkarama Award Honours Omani MP's Determination to Hold Government Accountable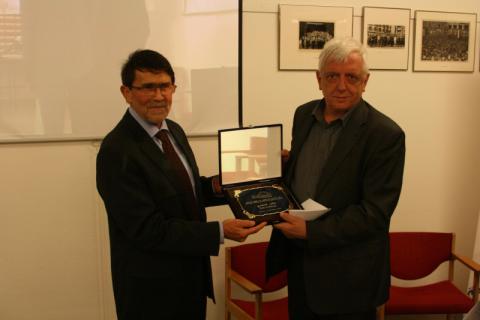 10 Dec 2015
On the occasion of Human Rights Day, the Alkarama Foundation presented its 7th annual award for Human Rights Defenders in the Arab World on 8 December 2015 to Omani human rights advocate and former parliamentarian, Talib Al Mamari, in recognition of his important work defending human rights in his country, in particular since the crackdown on civil society that followed the 2011 protests. The ceremony held at the Ecumenical Centre in Geneva commended Al Mamari's courage speaking up for his countrymen before Parliament and standing with them against the arbitrariness of the government's policies, especially those related to the health of the citizens of his native region of Liwa.
Upon receiving the award symbolically on behalf of Talib Al Mamari, still detained at the Smaa'il prison near Muscat, Swiss politician Ueli Leuenberger responded to observations that "there would be countries in the region where situation is much worse than Oman" by reminding the assembly that "human rights are indivisible" and "must be encouraged and promoted everywhere," in particular among States which, like Oman, "repress and lock out the noblest of these women and men."
Other speakers at the event included UN and international law expert, Sétondji Roland Adjovi and Gulf experts from international human rights organisations, Adam Coogle from Human Rights Watch and Radidja Nemar from Alkarama.
Opening the ceremony, Alkarama's Executive Director, Mourad Dhina said, "this year, Alkarama has decided to grant its annual award to a figure of peaceful resistance to oppression in the Arab Gulf region [...]. In the Omani society and the Gulf in general, Talib Al Mamari personifies the struggle to guarantee the rights of the citizens and to make governments accountable before them. His arbitrary detention is sadly not surprising in a region where governments continue to wrongly perceive such legitimate and non-violent requests as 'affronts' and infringements to 'stability'."
Elected at the Shura Council in 2011, Talib Al Mamari was arrested two days after taking part in a peaceful demonstration against the adverse effects of petrochemical pollution, on 24 August 2013, and sentenced to four years in prison and a 700 Rials (about 1,300 US dollars) fine for "harming the State's prestige," "crowding" and "illegal gathering."
Addressing the audience from Jordan, Adam Coogle, Middle East Researcher at Human Rights Watch, who met the Al Mamari family in mid-2014, said, "we think that Talib Al Mamari should never have been charged in the first place," explaining that "Oman probably persecuted him because, as an elected representative, he was very critical of Omani policies," and calling on the government "to halt its harsh repression of human rights activists and peaceful dissidents," as well as "to amend the vague laws that it uses to curtail basic rights."
In fact, "Oman's public image of a tourism and progressive country hides quite a different reality," continued Radidja Nemar, Legal Officer for the Gulf region at Alkarama. "It is one of the few countries that is not a party to the Convention against Torture (UNCAT), a country that is held by an absolute monarchy, which criminalises all forms of criticism and does not allow its population the possibility to participate to their country's political life."
The Majliss Al Shura or 'Consultative Council', of which Talib Al Mamari was a member, acts as an elected parliament but, as its name indicates, only holds a consultative and not a decisional role. Thus, explains Nemar, "when Talib made use of his position to hold the Omani rulers accountable, the government subjected him to reprisals to remind him that he was not supposed to give his opinion, unless it was in line with that of the authorities," and this, despite the parliamentary immunity that was supposed to protect him.
Speaking on behalf of the United Nations Working Group on Arbitrary Detention (WGAD), Second Vice-Chair, Sétondji Roland Adjovi expressed his admiration for the Omani activist. "Talib has been an exceptional human rights defender fighting for the rights of his fellow citizens but also for the future generations, advocating for the rights to a safe and clean environment and against the continuous and high-level pollution suffered by the region. He has also been very critical of his government as every elected official should be so that the care for the population continuously improves."
This is why, the WGAD unreservedly considered his detention as arbitrary and concluded "that the Government should not only release Dr Al Mamari but also accord him an enforceable right to compensation." Despite the UN Working Group's Opinion, Talib Al Mamari is still detained at the Smaa'il prison near Muscat.
In his absence, Legal Director and co-founder of Alkarama, Rachid Mesli handed the 2015 Award for Human Rights Defenders to the good care of Swiss politician Ueli Leuenberger, who gained recognition as parliamentarian for his tireless advocacy for human rights and the respect of the environment. Mesli started by paying tribute to the previous years' laureates, most of whom, like Talib Al Mamari, were not able to receive the award in person as they too remained detained or banned from travelling for their peaceful commitment to protect and promote human rights in their respective countries.
"In the absence of Talib Al Mamari, of his lawyer, himself arrested a couple of weeks ago, and of his family for fear of reprisals, I am happy to give the prize to Mr Ueli Leuenberger who shares with our laureate common universal values, as a human rights defender and an environmental activist who, through his role at the Swiss parliament, always thrived to defend and promote the rights of his fellow citizens, but also to call for more democracy in the world," said Mesli.
Receiving the award on behalf of Talib Al Mamari, Ueli Leuenberger, former President of the Green party, former member of the Swiss Parliament and President of the Geneva Institute for Arab and Mediterranean Studies, said that "honouring an activist and parliamentarian so deeply engaged with the concerns of his fellow citizens, fighting against environmental destruction and pollution, which endangers and sickens people living near petrochemical facilities, is of particular significance on the eve of International Human Right Day and during the UN Climate Conference in Paris," and vowed to take good care of the award until he could present the 2015 laureate with his award "to a free man, so he can continue the commitment that we both share."
Defending human rights is not a crime, except of course for dictators. Talib Al Mamari clearly understood this, when he declared "there is no space left in this world − that of freedom and civilisation − for persistent dictatorship."
For photos, quotes or an interview with any of the speakers, please contact the media team media@alkarama.org (Dir: +41 22 734 1008).