Egypt: 16-Year-Old Minor Soon Tried Before Military Court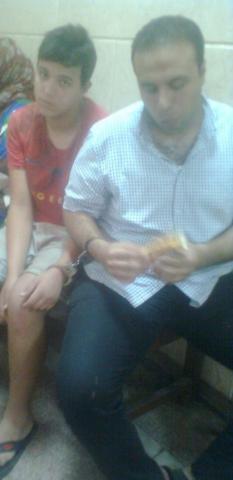 07 يناير 2015
On 6 January 2015, Alkarama sent an urgent appeal to the United Nations Working Group on Arbitrary Detention (WGAD) to demand the immediate release of an Egyptian minor, Seif Al Islam Osama Shousha, arbitrarily arrested and detained since 8 March 2014, on the basis of fabricated charges. Having never been brought to appear before a civil court, Shousha now faces a trial before a military court, in violation of international human rights law.
Arbitrary arrest
Shousha and several friends were standing in the streets of Damietta, a port city 200 km northeast of Cairo, when they were attacked with knives by several individuals, severely beaten and forcibly taken in an armoured police vehicle, without being informed of the reason for their arrests. His transfer to the police station of Damietta did not bring any clarification, since he was prevented to read, and even less to challenge, the report on his arrest written by one of the police officers.
Bleeding heavily and suffering from a head wound and bruises on his body, Shousha spent the night at the police station without access to care or legal assistance, nor being allowed to contact his parents. Brought before the prosecutor the following day, he was charged - under the November 2013 law on demonstrations – with participation in an "illegal demonstration" and "possession of streamers and smoke grenades", when he was only standing in the street with several friends, without being in possession of such items.
There is no doubt that Shousha is a victim of the law on demonstrations, strongly criticised by former UN High Commissioner for Human Rights, Mrs Navi Pillay, for giving local security authorities "the power to ban gatherings that would constitute a threat to 'security' or 'disrupt citizens' interests' without specifically detailing the conduct, [...] leaving the door open to a very restrictive and repressive interpretation."
Detention and ill-treatment
Shousha was then remanded in custody for 15 days at the police station of Kafr Saad, before being transferred to the second police station of Damietta and then to that of Farskour, where he remains detained to date. He reported having been ill-treated both by other prisoners and police officers, adding up to his detention conditions already particularly difficult and inadequate. Shousha is, in fact, detained in a small, dirty and poorly ventilated cell, in the company of adults.
As a result, he has developed skin infections and respiratory problems, exacerbated by the continued police refusal to let his relatives - who have been authorised to see him one minute per week – bring him medication. His family and lawyer's numerous requests to transfer him and other detained minors to a more suitable detention centre have remain unanswered.
Trial by a military court
Whilst his detention was renewed more than ten times, Shousha has not been brought before a civil judge and is now at serious risk of being tried by a military court, although international law prohibits the judgment of civilians before such institutions, which are "in breach of the fundamental requirements of independence and impartiality and of guarantees for a fair trial required by article 10 of the UDHR, articles 9 and 14 of the ICCPR and customary law," as recognised by the United Nations on numerous occasions, including in the WGAD opinion No.35/2014 of 24 October 2014.
Indeed, the recent Decree No. 136 of 2014, adopted by the Egyptian President Al Sisi, makes it possible to try individuals accused of damaging public infrastructure before military courts – even retroactively. However, the broad definition enshrined in the decree aims directly at peaceful demonstrators since, according to its definition, the simple fact of demonstrating undermines, not only public order, but also public infrastructure.
Therefore, six days before Shousha's set civil hearing, the civilian prosecutor withdrew in favour of a military prosecutor. Moreover, despite the lack of evidence, the new prosecutor added a new charge on his record, difficult to contest in Egypt, that of "belonging to a terrorist group [the Muslim Brotherhood]."
Like many other Egyptian citizens arrested and falsely accused as part of the authorities crackdown on any form of peaceful dissent, 16-year-old Shousha is at risk of being sentenced in the coming weeks to a very long prison sentence, without real guarantee of appeal, nor the benefit of a proper defence, only for having being at the wrong place at the wrong time.
In light of the above information, Alkarama sent an urgent appeal to the Working Group on Arbitrary Detention (WGAD) to call upon the Egyptian authorities not to judge Shousha before a military court and, in the absence of physical evidence, to release him immediately. Egypt must immediately put an end to the trial of civilians before military courts and respect its international commitments by ceasing to repress its population.
For more information or an interview, please contact the media team at media@alkarama.org (Dir: +41 22 734 1007 Ext: 810)