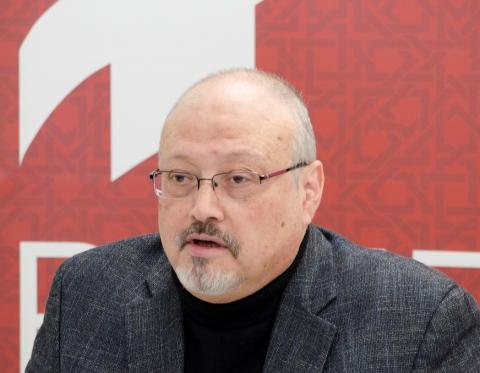 (Geneva – October 10, 2018) – Alkarama, ALQST and Reporters Without Borders have requested the urgent intervention of the UN Working Group on Enforced or Involuntary Disappearances (WGEID) in the case of Saudi journalist Jamal Khashoggi, who remains missing more than a week after he was last seen entering the Saudi consulate in Istanbul.
On October 2, at 1:14 p.m., Khashoggi arrived at the consulate to obtain routine paperwork, and has remained disappeared to date. Conflicting accounts have emerged as to Khashoggi's fate, with Turkish authorities concluding after an investigation that Khashoggi was assassinated at the consulate, and Saudi authorities denying these findings, stating that he left the consulate the same day he arrived. 
Khashoggi's disappearance falls within the context of a mass crackdown on freedom of expression in Saudi Arabia, which has seen the arbitrary arrest and detention of hundreds of individuals from all sectors of society, including members of the royal family, human rights defenders, businessmen, scholars and public figures. Saudi exiles have expressed fear that Khashoggi's disappearance constitutes a clear warning that criticism of Saudi Arabia will not be tolerated – even when voiced from abroad – as well as a sign of the ruthlessness with which the regime punishes peaceful dissent.
Background 
For several decades, Khashoggi maintained strong ties with the Saudi ruling family, including by serving as a media advisor to Saudi Arabia's former intelligence director Prince Turki bin Faisal. However, as Mohammad Bin Salman rose to power in 2015, Khashoggi fell out of favour with the royal family.
As a consequence, Khashoggi fled to Washington D.C. in 2017, where he began writing a column for the Washington Post and continued to comment on Saudi policy in international news outlets. During this period, he stated that he could not return to Saudi Arabia for fear of detention, and also expressed his belief that he might be kidnapped and returned to the country if he were to visit the consulate in Istanbul.
International concern  
On October 9, 2018, the UN Special Rapporteurs on Freedom of Expression (FRDX) and Extrajudicial Executions (SUMX), as well as the WGEID released a statement expressing their grave concern at Khashoggi's disappearance and "allegations of state-sponsored murder", as a direct result of "his criticism of Saudi polices in recent years". They also called for "[a]n independent international investigation", and reiterated previous calls "on the Saudi authorities to open the space for the exercise of fundamental rights, including the right to life and of expression and dissent".
The Chairman of the European Parliament's Subcommittee on Human Rights issued a similar statement, urging the Saudi authorities to disclose Khashoggi's location. He went on to call "on the EU and its members to respond strongly and reassess their relationship with Riyadh, including military sales" in the event that the preliminary conclusions of the Turkish authorities' investigation pointing to an assassination are confirmed.
Alarmed by these developments, on October 10, Alkarama, in partnership with ALQST and Reporters Without Borders, requested the WGEID's urgent intervention with the Saudi authorities to call on them to clarify Khashoggi's fate and whereabouts.
For more information or an interview, please contact media@alkarama.org (Dir: +41 22 734 1008).